Friends, family say goodbye to Aretha Franklin in marathon funeral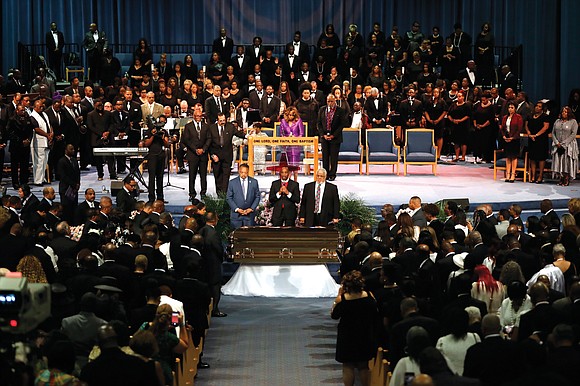 DETROIT
The "Queen of Soul" Aretha Franklin was remembered and celebrated in a star-studded marathon funeral service last Friday that drew laughter, tears and, as with any large family gathering, controversy.
The nearly nine-hour service at Detroit's Greater Grace Temple featured tributes by 27 speakers, ranging from former President Bill Clinton to childhood friend Smokey Robinson, and musical performances by 19 others, including the powerful voices of Gladys Knight, Jennifer Hudson, Chaka Khan, Shirley Caesar and Ariana Grande.
The 76-year-old, who began her musical career as a child singing gospel at her minister father's New Bethel Baptist Church in Detroit, died Aug. 16 at her Detroit home from pancreatic cancer.
More than 100 pink Cadillacs escorted the hearse carrying the late singer's casket to the church, where crowds of fans gathered outside, many wearing their Sunday best.
Ms. Franklin was a fan of Cadillacs, particularly pink Cadillacs, and sang about them in her 1985 hit, "Freeway of Love."
Many of the owners and drivers were Mary Kay cosmetics representatives who had won their signature pink Cadillacs. But others were Cadillac owners who had driven in from as far as Texas and North Carolina for the auto tribute.
"This is as close as you get to royalty here in America, and Aretha earned every bit of it," said Missy Settlers, 53, an automotive parts assembler.
While the funeral had been billed as closed to the public, some fans were admitted into the church to sit behind Ms. Franklin's family.
"Come on, this is a church service. Lift your voices!" Bishop Charles H. Ellis III, pastor of Greater Grace Temple who officiated at the funeral, exhorted the congregation as the large choir and orchestra swayed behind him. The church swelled with the sound of music.
More than eight music-filled hours later, Stevie Wonder took to the stage to close out the ceremony with a performance of his song "As," the crowd joining him in its refrain, "I'll be lovin' you always."
"She had the voice of a generation, maybe the voice of a century," President Clinton said, describing himself as an Aretha Franklin "groupie" long before he became president. Ending his remarks, President Clinton held the microphone to his smartphone and played Ms. Franklin's 1968 hit "Think" over the church's speakers.
Civil rights leaders Jesse Jackson and the Rev. Al Sharpton were on stage to honor Ms. Franklin's contributions to black empowerment, sharing the pulpit with Nation of Islam Leader Minister Louis Farrakhan.
Rev. Sharpton lauded Ms. Franklin for providing the soundtrack of the Civil Rights Movement, with songs such as her signature 1967 hit "Respect."
"She was a black woman in a white man's world," Rev. Sharpton said, as mourners cheered. "She was rooted in the black church, she was bathed in the black church, and she took the black church downtown and made folks that didn't know what the Holy Ghost was shout in the middle of a concert."
Ms. Franklin was recalled as both an American institution, who sang at the presidential inaugurations of Jimmy Carter, Bill Clinton and Barack Obama, and as an aunt and grandmother, who took her young relatives shopping or to see Disney on Ice shows.