NFL black power: Mahomes among 6 African-American quarterbacks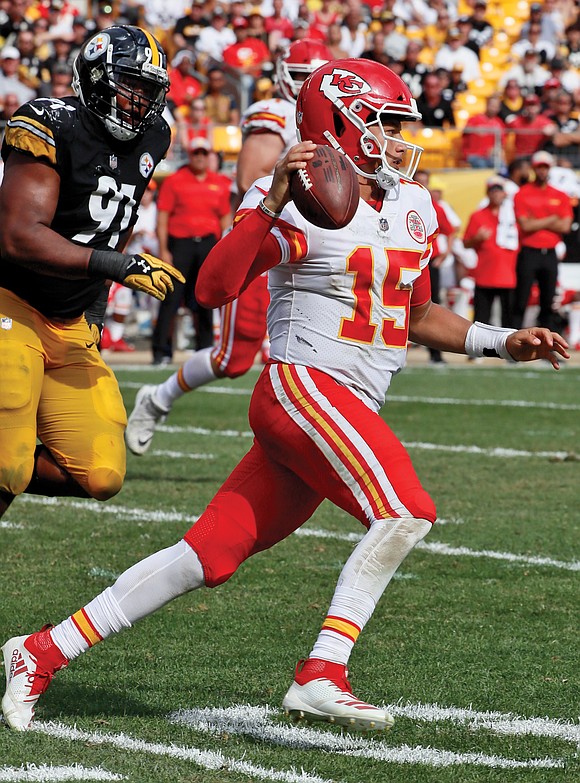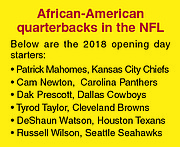 Patrick Mahomes II has gone from substitute to superstar with the Kansas City Chiefs.
The latest addition to the NFL's African-American quarterbacks club has passed for 10 touchdowns in Kansas City's opening wins over the Los Angeles Chargers and Pittsburgh Steelers.
The 6-foot-3, 23-year-old second-year pro out of Texas Tech threw for four touchdowns against the Chargers and six more against the Steelers.
That's the most touchdowns in the first two games of the season in NFL history.
In those outings, Mahomes threw for 582 yards with zero interceptions.
It is also the most touchdown passes in NFL annals for a player's first three starts.
Mahomes spent his rookie season in Kansas City backing up Alex Smith, now with the Washington pro team as an offseason free agent acquisition.
In 2017, Mahomes played in only one game — the regular season finale against the Denver Broncos.
The native Texan is the son of Randi Mahomes and Pat Mahomes Sr., who had an 11-year career as a major league pitcher with several organizations.
Along with being an All-State quarterback in Texas, the younger Mahomes also played baseball at Whitehouse High School, once tossing a no-hitter with 16 strikeouts.
His godfather is another former big league hurler, LaTroy Hawkins.
At Texas Tech, Mahomes set NCAA records for most passing yards (734) and total offense (819) for a single game against the University of Oklahoma.
He was the 10th player selected overall in the first round of the 2017 NFL draft. He was the second quarterback picked in the draft behind Mitchell Trubisky, who was selected second overall by the Chicago Bears.
Mahomes becomes the NFL's sixth African-American starting quarterback for 2018.
Marlin Briscoe, known as "Marlin the Magician," is considered the NFL's first African-American starting quarterback in the modern era. Briscoe broke in with Denver in 1968 and went on to play 105 NFL games, many as a wide receiver later in his career.