Dr. Allia L. Carter promoted to No. 2 role at VUU
4/12/2019, 5 a.m.
Dr. Allia Lakenya Carter, a 22-year veteran of higher education, has been promoted to the No. 2 executive position at Virginia Union University, the historic North Side school announced this week.
Dr. Carter, 47, is now executive vice president and chief operating officer of the private, 1,700-student Baptist affiliated university.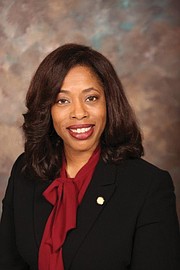 VUU President Hakim J. Lucas announced Dr. Carter's promotion, which was effective April 5, as the university also moved forward on a new apartment development.
A member of the VUU administration since October 2017, Dr. Carter is in charge of overseeing most of the day-to-day operations, including student affairs, business affairs, campus police, enrollment management, human resources, information technology, internal auditor and intercollegiate athletics, Dr. Lucas stated.
Dr. Carter was one of the people Dr. Lucas hired from Bethune-Cookman University after he was named VUU's president in August 2017. He had been Bethune-Cookman's chief fundraiser, and Dr. Carter had served there as vice president of enrollment management and undergraduate studies.
Since coming to VUU, Dr. Carter has served as vice president of enrollment management and student affairs and led student recruitment initiatives as well as efforts to simplify registration, Dr. Lucas stated.

"I look forward to using my new position to partner with administrative and academic units to realize our vision of becoming a premier liberal arts urban institution of higher education and center of excellence," Dr. Carter stated.
Dr. Lucas praised her work at various universities "to improve educational programs and services" to provide students with greater access to higher education, to make programs more affordable and to enable students to stay in school and graduate.
Her career includes previous administrative stints at Darton State College in Albany, Ga., Wayne State University in Detroit and Georgia College in Milledgeville, Ga.
She earned her bachelor's degree at Siena Heights University in Michigan, a master's degree from Southern Illinois University and a doctorate from Bowling Green State University in Ohio.
Meanwhile, VUU has taken an option on a nearly one-acre site at Brook Road and Lombardy Street across from the campus that is now home to Budget Inn, a longtime motel that now houses low-income people by the week, according to Richmond Bizsense, an online business news site.
Davenport & Co. has issued a request for proposals on behalf of VUU, with development ideas due by mid-May for commercial or mixed-used retail and residential development for the property at 2201 Lombardy St. One option involves potential development of a small hotel or a hotel with housing on upper floors, people close to the project have indicated.
If the development materializes, the VUU project would complement new apartment construction nearby, including the 2-year-old, 103-unit The Spectrum Apartments, 2017 Brook Road, and a proposed 220-unit complex at 2009 Brook Road, which was approved this week by Richmond City Council after five months of consideration.
Councilman Chris A. Hilbert, 3rd District, led the effort for approval at Monday night's council meeting. He said the fact that VUU is partner in the project "was the tipping point for me." He said the development would improve housing for students, noting that some dorms on the campus are in poor shape.
VUU's move comes as the city Planning Department continues working on rezoning the commercial district along Lombardy Street east of the university, with the goal of attracting pedestrian-friendly apartments and shops to revitalize the area and eventually eliminate the commercial business, small auto repair shops and used car sales outlets that currently dominate Lombardy Street between Brook and Chamberlayne Ave.
The city plans to hold community meetings to consider the changes the rezoning would create before seeking approval from the Planning Commission and City Council.