VUU acquires motel property for expansion project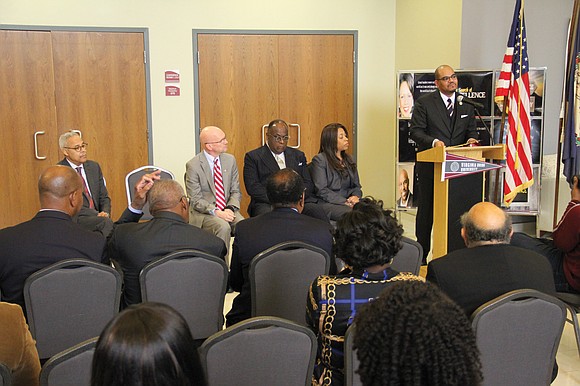 Virginia Union University has purchased a nearby motel property in undertaking its first expansion in more than 40 years.
VUU President Hakim J. Lucas announced at a news conference Tuesday the university's acquisi- tion of the nearly 1-acre Budget Inn-Richmond site, located at the intersection of Lombardy Street and Brook Road across from the campus.
The university plans to construct a multi-use building on the site to focus on learning and community development.
While officials did not disclose the purchase price, city property records show VUU paid $2.9 million for the property, which was owned by Surjaya Corp. The corporation purchased the motel in 2006 for $1.2 million, according to city records. The property most recently was assessed at $543,000.
The sale closed on Dec. 5.
"We have expanded our footprint and we are in control of our environment," Gregory Lewis, VUU's senior vice president and chief financial officer, told the audience of about 75 people. "We were able to purchase the property without incurring debt, using our available resources. We are very humbled to be able to purchase this property with plans to improve the community."
Dr. Lucas called the purchase a "proud moment" for VUU.
"For the first time in four decades, we are expanding beyond our current gates," Dr. Lucas stated. "It is a historic decision as we plan toward our future and identify ways to provide resources to strengthen redevelopment in the North Side Richmond community."
Joining Dr. Lucas and Mr. Lewis at the news conference were Dr. W. Franklyn Richardson, chairman of the VUU Board of Trustees; Dr. Allia Carter, VUU's chief operating officer; and Richmond City Councilman Chris Hilbert, 3rd District.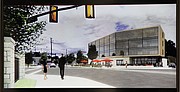 "Mr. Hilbert has been right there to fight with us," Dr. Lucas said. "The city will see us and feel us as VUU continues to grow relationships with corporate and other entities. We are banding together for the future."
Councilman Hilbert indicated that VUU's project could kick off a future North Side "neighborhood center" envisioned in a revitalization plan for the area that was presented to City Council in July.
Called the VUU-Chamberlayne Neighborhood Plan, it was created by Urban Design Associates in cooperation with the city's Department of Planning and Development Review. It calls for a higher density, mixed-use neighborhood center, including a pedestrian-friendly retail and shopping district with apartments and housing located above offices and businesses.
Officials have said any changes would be gradual, with the development primarily serv- ing the Edge Hill and Chamberlayne Court, Battery Park, Ginter Park and other North Side neighborhoods.
The VUU purchase of the motel property is viewed as a first step toward that change.
In a news release about the acquisition, VUU officials stated the university "has committed to working with the Commonwealth of Virginia, the City of Richmond and Richmond Public Schools to help accelerate the city's economic diversifica- tion through entrepreneurial growth, workforce development and identification of infrastructure investments needed in the North Side."