Barbara McDaniel Wolfe-Harris, longtime educator, dies at 90
4/26/2019, 6 a.m.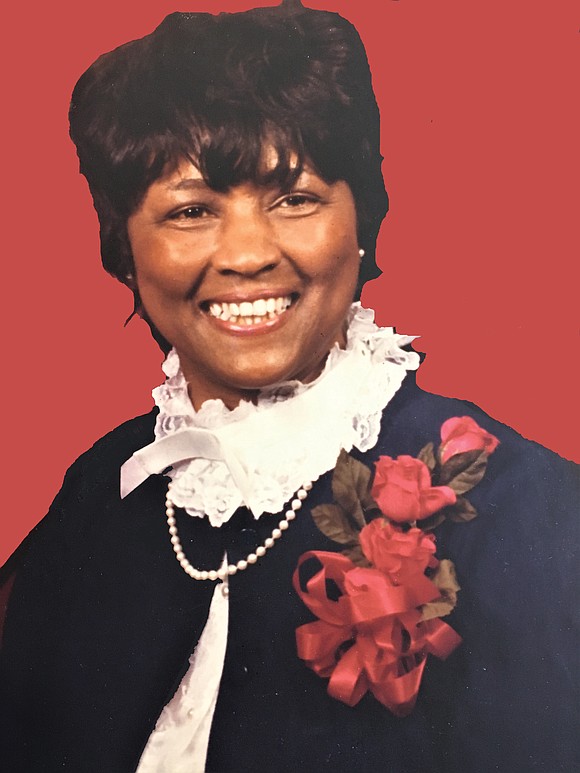 L. Barbara McDaniel Wolfe-Harris was a creative force in the classroom during her 29 years as a Richmond elementary schoolteacher.
Her son, Troy G. Wolfe, said his mother used photography, art, dance and visual aids to boost learning among the second- and third-graders she taught.
She would go all out, he said, recalling how one time she induced King's Dominion to bring a caged lion to her classroom. She also built a camera in one room, he said, to allow children to take selfies.
Her approach to teaching led her to be named Richmond Teacher of the Year in 1986, he said.

"My mother was a kind, loving person who always tried to make everything and everyone she met a little better," Mr. Wolfe said.
She also was involved in social, civic and church endeavors outside the classroom.
Mrs. Wolfe-Harris died Sunday, April 14, 2019, in Hackensack, N.J., where she had moved to be closer to her son. She was 90.
Family and friends will celebrate her life at 11:30 a.m. Saturday, April 27, at Ebenezer Baptist Church, 216 W. Leigh St. in Jackson Ward, to which she belonged most of her life. Burial will follow in Riverview Cemetery.
Ahead of the funeral, the family will greet friends from 6:45 to 7:30 p.m. Friday, April 26, at Scott's Funeral Home Chapel, 116 E. Brookland Park Blvd. in North Side.
Born Lillian Barbara McDaniel in Richmond, Mrs. Wolfe-Harris always used her middle name to avoid confusion with her mother, Lillian Ward McDaniel, an educator in Richmond who inspired her daughter to follow in her footsteps, her son said.
Known for always wearing her trademark white gloves and her Sunday best whenever she left her house in the near West End, Mrs. Wolfe-Harris began her education career in Plainfield, N.J., after graduating from Armstrong High School and Virginia Union University and earning a master's in psychology from Columbia University.
Mr. Wolfe said a school official in Plainfield encouraged her to become a teacher after observing her participation in his school's Parent-Teacher Association and telling her she could do more for the children by joining the faculty.
Returning to Richmond after her first marriage ended, Mrs. Wolfe-Harris joined Richmond Public Schools. She taught elementary grades at Woodville, Westhampton, Bellevue, Albert V. Norrell and Ginter Park and its annex, Mary Scott, before retiring in 1998.
Active in politics and the city Democratic Committee, Mrs. Wolfe-Harris, sister-in-law to the late City Councilwoman Claudette Black McDaniel, made her lone foray for public office in 1994 when she unsuccessfully challenged incumbent 5th District City Councilman Henry W. "Chuck" Richardson.
In contributing to her college alma mater, she partnered with the late C. Delores Tucker to establish the now defunct College for Kids at VUU.
In retirement, Mrs. Wolfe-Harris stepped up her activity and leadership roles in other organizations, her family said. She was a past president of the Upsilon Omega Chapter of Alpha Kappa Alpha Sorority, the Delver Junior Woman's Club and Pi Lambda Theta educational honor society, the family noted.
Mrs. Wolfe-Harris also served on the boards of the Richmond Education Association, the Metropolitan Junior Baseball League and the Richmond Metropolitan Area Chapter of the National Coalition of 100 Black Women.
She also belonged to the Urban League of Greater Richmond and the National Association of University Women.
Mrs. Wolfe-Harris also contributed articles to the Richmond Afro-American and served on the now defunct newspaper's Advisory Council.
At Ebenezer Baptist Church, she launched a gala called "An Evening with Saints and Stars" to raise money for the building fund.
In 2012, she moved to Harrisonburg, Pa., to be near her daughter, and a few years later, moved to Hackensack, closer to her son's residence.
Though twice divorced, Mrs. Wolfe-Harris retained the names of her former husbands, Uncas Wolfe and William Harris.
Survivors include her children, Mr. Wolfe of West New York, N.J., and Traci Wolfe-Hood of Allentown, Pa., and three grandchildren.
The family requests, in place of flowers, that memorial contributions in Mrs. Wolfe-Harris' name be sent to the Special Projects Scholarship Fund and Shoe Bank of the Upsilon Omega Chapter of AKA, P.O. Box 25306, Richmond, Va. 23260.