Hearing set for Aug. 8 on Agelasto removal
Former 5th District City Councilman Henry W. "Chuck" Richardson finally may get a hearing on his motion to oust the district's current coun- cil representative, Parker C. Agelasto, from office because Mr. Agelasto lives outside the district.
Richmond Circuit Court Judge W. Reilly Marchant has set a new hearing for Mr. Richardson's case at 9:15 a.m. Thursday, Aug. 8.
Judge Marchant's decision could determine whether Mr. Agelasto continues in office until his announced resignation date of Nov. 30, or if he must leave office immediately and well ahead of the special election that will be held Tuesday, Nov. 5, to choose his successor.
Mr. Agelasto's continued service has been in jeopardy since he and his family moved a year ago from their Floyd Avenue home in the 5th District to a residence on West Franklin Street in the 1st District.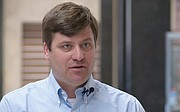 Mr. Agelasto made a deal with then-Commonwealth's Attorney Michael N. Herring to step down at the end of November to avoid Mr. Herring going to court to remove him from office. Mr. Agelasto has not commented on Mr. Richardson's filing, but he and his attorney, former Virginia Attorney General Anthony Troy, are preparing a vigorous defense.
Mr. Richardson is one of two former council members who filed lawsuits seeking Mr. Agelasto's removal from office because he moved out of the district. Mr. Richardson is asking the judge to issue a declaratory judgment to end Mr. Agelasto's tenure immediately.
In his filing, Mr. Richardson, who is now a candidate to replace Mr. Agelasto, argues that Mr. Agelasto's move violates a state law requiring state and local elected officials to live in the district they serve and a companion law that deems any official who does not do so as having vacated his or her office. In a recent Virginia Beach case, a School Board member was removed from office using the same kind of filing.
Mr. Richardson, still fuming over the July 12 postponement of which he
and his attorney, David Prince, were not notified until they got to the court, said he hopes that Judge Marchant will not postpone the case again.
"I'm concerned about the implications" of the first postponement, Mr. Richardson said. "The judge set the date for the July hearing in April, then takes a vacation on the day of the hearing. I don't know what to make of a vacation being given priority over this case."
He said he is surprised and dismayed that it has taken six months since he filed in February to go before a judge to get "an answer to the question of whether Mr. Agelasto is entitled to serve that could take five minutes."
Meanwhile, former 6th District Councilman Sa'ad El-Amin is still waiting to get a date for a hearing on his similar request for a declaratory judgment against Mr. Agelasto as a result of the move.
Mr. El-Amin has asked Commonwealth's Attorney Colette W. McEachin if she intends to use her authority to seek Mr. Agelasto's immediate removal now that Mr. Herring has left office. He said she has not yet responded.