'Rey' of hope
Cristo Rey Richmond High School opens to high expectations by students, officials
By Samantha Willis and George Copeland | 8/23/2019, 6 a.m.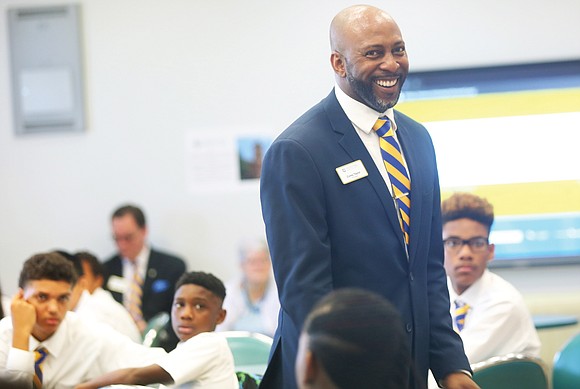 When the bell rang at 7:45 a.m. Monday, 96 ninth-grade students began the inaugural school year at Cristo Rey Richmond High School, a private school that promises opportunities for some of the area's poorest youths through a rigorous, college preparatory curriculum combined with an unconventional work component that seeks to give them a boost in the job market.
Located at 304 N. Sheppard St. inside the former Benedictine High School, Cristo Rey is "part of a network of 37 schools across the United States," explained Peter McCourt, president and chief executive officer of the Richmond school. "Nationally, Cristo Rey schools have produced about 15,000 graduates, with a 100 percent college acceptance rate."
Cristo Rey is a Catholic school whose goal is to educate "young people of limited economic means to become men and women of faith, purpose and service," according to its mission statement.
"We are a faith-based, Catholic learning community," Mr. McCourt said, "but we welcome students of all faiths. They do not have to be Catholic to attend."
Cristo Rey opens in Richmond at a time of academic uncertainty, with public schools in the metro area garnering both nationwide honors and statewide embarrassment and facing money troubles and plans to replace and/or renovate many of the worn out buildings.
Cristo Rey will serve grades nine through 12. Academic lessons are based on Common Core and Virginia education standards; the school will award its graduates advanced diplomas.
The school's mission mirrors a set of 10 Cristo Rey Network standards, which Mr. McCourt said originally were designed to exclusively support youths from urban, underserved communities.
It is based on a school model begun in 1995 in Chicago by Father John P. Foley, and incorporates a work-study program where corporate partners of the school employ students.
Working in teams of four, Cristo Rey students share one job, with each student working five full days per month. The program is designed so that students will not miss class while working. The students' income is directed to the school and used to fund their tuition costs.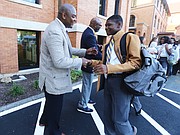 Cristo Rey's website explains that the Corporate Work Study Program provides students with "crucial hands-on, white collar work experience, while simultaneously empowering them to assume an active role in financing the larger portion of their education."
The school acts as employment placement agency for their students, who are employed by the school, not the corporate partners.
Cristo Rey students will work with at least 25 corporate partners from a range of industries, including McGuireWoods, Dominion Energy, Bon Secours, Markel and Groome Transportation.
Student employee responsibilities will vary by job and industry, but may include tasks such as data entry and helping create Microsoft Excel reports for financial service jobs or filing records and assisting with fraud investigation for banking jobs.
Both Corey Taylor, the school's principal and chief academic officer, and Amy McCracken, director of the work-study program, stressed that the program is not an internship, but a vehicle to give students real skills, connect them to potential employers and prepare them for future job markets.