'Rey' of hope
Cristo Rey Richmond High School opens to high expectations by students, officials
By Samantha Willis and George Copeland | 8/23/2019, 6 a.m.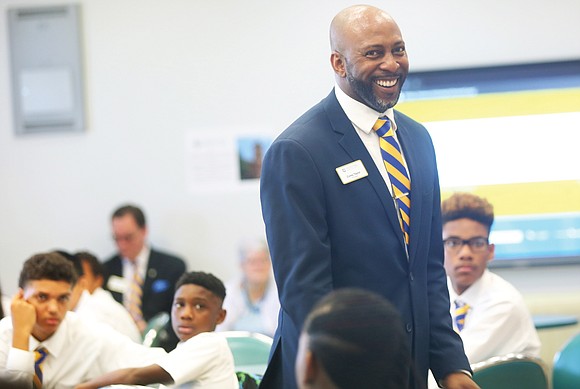 A notable exception to Cristo Rey's program is blue-collar vocational work. Mr. Taylor said this absence isn't out of disrespect toward those professions, but simply the nature of the program and the school itself.
"That's just not our focus," Mr. Taylor said, "and that's something that we're very intentional about when we are presenting to students or to different corporations.
"College is not for everybody, and working in the corporate space is not for everybody," Mr. Taylor said. "But it is for some people. And if that is an ambition of yours, you should have the means to be able to do so."
Ms. McCracken pointed out that the program can be a clarifying experience for students, letting them gain experience in a field before fully committing to a career path.
"It's very different. I hope everything goes well with how this all turns out," 15-year-old Elizabeth said Monday about her new school. (School officials did not want students' last names to be published.) Originally from Chicago, the Richmond resident attended Saint Joseph Catholic School in Petersburg before enrolling at Cristo Rey.
While it's a lot for any student to take in, Elizabeth and Marc, 14, said it's been worth it so far. All students went through a three-week orientation in July.
"I like the people here. I like the teachers and just about everything about it," said Marc, who attended All Saints Catholic School on Richmond's North Side.
Marc and Elizabeth agreed that maintaining good grades at Cristo Rey potentially could be difficult, given the more demanding courses and the responsibility of balancing school assignments with work obligations.
"Coming through the whole three weeks of (orientation) taught me a lot of things and how to be prepared for the real world," said Elizabeth, who learned about Cristo Rey from news reports and websites.
She said she was drawn to the opportunity to do adult-level busines work.
"I just thought that was really cool when you're only 15," she said.
Marc learned about Cristo Rey when representatives came to All Saints. He said he sees it as an opportunity to learn and head to college. He also was excited by the prospect of the work-study program.
"I'm 14 and I'm doing what grownups would do. I'm preparing for the future," he said.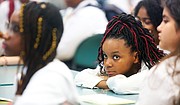 When college becomes the next step for Cristo Rey students, they can expect to have a lot of help. This includes a college counseling service that starts in the 10th grade and a network of 47 partner universities across the United States, all working to ensure graduates have the financial support they need when they settle down at whatever college they choose.
Even if students pursue higher education in locales without a nearby Cristo Rey school, Ms. McCracken said they'll see long-term support.
"The one thing that we want ultimately is for students to be successful," Mr. Taylor said. "And so if you're coming into a place as a student where it doesn't feel welcoming, and you don't feel like you can actually learn and grow, then you won't."
Given the community interest and the enthusiasm of its new students, Cristo Rey officials are eager to see how the school and its students will progress.
"I cannot imagine what it's going to be like when our founding class graduates in 2023," Ms. McCracken said. "We are all eyes on the prize — all looking forward to that day."