Okoye rebounding this season to help Lady Panthers with big wins
Fred Jeter | 12/13/2019, 6 a.m.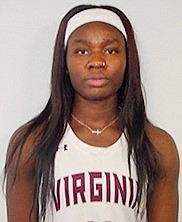 Ifunanya Okoye represents both the near and far on the Virginia Union University women's basketball roster.
Answering to "Ify" (pronounced "eye-fee"), she came to VUU directly from Banner Christian School in Chesterfield County.
But prior to that, she was born and grew up in the Nigerian metropolis of Lagos, the largest city on the African continent with a metropolitan population of about 21 million.
Ocean hopping has come easy for the talented young lady.
The 5-foot-10, 20-year-old sophomore biology major is among the galaxy of standouts on VUU Coach AnnMarie Gilbert's perennial powerhouse team.
"Ify has a chance to dominate this league," Coach Gilbert said of the NCAA Division II CIAA. "She plays hard and she jumps hard. Ify's skilled enough to go to the perimeter, but she told me she likes staying close to the basket to get more rebounds."
Okoye was 17 when she arrived at Banner Christian School as a foreign exchange student. She was joined at the South Providence Road school by another Nigerian student, Monica Ezekiel, who also played basketball.
"Ify did everything for us," said BannerAthletic Director Paul Ivill. "We just wish we could have had her for more than one year."
The foreign student's host family was Patti and Larry Burkett, parents of Banner Head of School Tom Burkett.
With Okoye averaging 21 points, 13 rebounds and eight steals, Banner went 23-4 in 2018, reaching the Virginia Independent Schools Athletic Association semifinals.
Still, there was little in the way of recruitment until Coach Gilbert and her staff took notice.
"We first saw Ify at the ASSIST camp at Meadowbrook and fell in love with her," Coach Gilbert recalled.
Okoye barely broke stride a year ago adjusting to the college game. The young lady from Banner had a banner freshman season in 2018-19 in the Panthers' maroon and steel. She was averaging nearly a double-double for the Panthers before adversity struck in the 19th game at home against Virginia State. Scrapping for a loose ball, she tore her left ACL and was out for the remainder of the season following surgery.
Still, she made the CIAA All-Rookie Team.
"Ify would have been Rookie of the Year if she hadn't been hurt," Coach Gilbert said.
Following a painful rehab at VCU Sports Medi- cine, Okoye was back in the mix — albeit wearing a knee brace — for the defending CIAA championship Panthers.
Typically, this type of surgery requires a nine-month rehab, but Okoye was back in less than seven months.
"I think Ify set the rehab record," Coach Gilbert said. "We've taken it a little slow with her. As the season goes on, her minutes will grow."
Through six games for 5-1 VUU, Okoye, who wears jersey No. 13, is averaging seven points and six rebounds in 15 minutes an outing.
In her last game, the Panthers' Nov. 25 win over Claflin University, Okoye had 11 points, nine rebounds and four steals.
Overcoming physical setback is nothing new to Okoye, who grew up playing soccer.