Who are the Black Hebrew Israelites?
Jack Jenkins/Religion News Service | 12/20/2019, 6 a.m.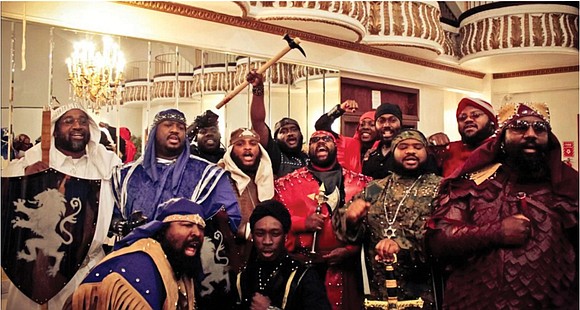 But both he and Dr. Weisenfeld agree that a new iteration emerged in the 1960s and 1970s. "(These groups) rejected the term 'Jew' and emphasized the illegitimacy of white Jews as part of a style that was militant, black nationalist, macho and patriarchal, frequently focused (on) emigration, whether to rural communities in the South, or, in one case, to Liberia and then Dimona, Israel," Dr. Dorman told RNS in an email.
He added that these groups are often characterized by a preference for "confrontational" street preaching and have produced "messianic leaders and, on occasion, criminal conspiracies."
The beliefs and practices have caused divisions within the broader Black Hebrew Israelite community.
"The older groups tend to disagree with both the content and the style of the newer groups," Dr. Dorman said. "There is also fighting and factionalism amongst third wave Israelite groups. These movements are very schismatic."
Rabbi Funnye told RNS in January that he objects to some of these groups even using the term Hebrew Israelites and criticized some of their street preaching practices.
"I can assure you that we have nothing to do with this group whatsoever, in any way, shape, form or fashion," he said at the time.
This more recent wave also has caught the eye of the Southern Poverty Law Center, which tracks hate groups. The SPLC has labeled 144 Black Hebrew Israelite organizations — but by no means all — as hate groups on its website. It cites evidence of what experts call "a rising extremist sector within the movement" due to the "antisemitic and racist beliefs" of some Black Hebrew Israelite groups.
Dr. Dorman argued for a nuanced understanding of the groups, stating SPLC's approach is "highly problematic from a scholarly perspective, as it takes public statements at face value."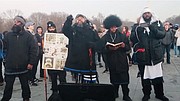 Even so, Black Hebrew Israelites have drawn national attention in recent years for wading into national political discourse. A group affiliated with the movement was seen hurling insults at a group of Covington Catholic students in January 2019 for wearing hats emblazoned with President Trump's campaign slogan "Make America Great Again."
Meanwhile, Michael Symonette, a man often seen at Trump rallies waving a "Blacks for Trump" sign, also reportedly is connected to the movement, according to The Forward. His own views appear to deviate from any of the main Black Hebrew Israelite strains: He sees Ashkenazi Jews as "blessed people," Sephardic Jews as "false Jews" who "hate the blessed people," and black and white people as the "real Hebrews."
The exact nature of the connection between the Jersey City gunman and the Black Hebrew Israelites remains unclear, although the SPLC noted that "anti-law enforcement sentiment is not a core tenet of the Black Hebrew Israelite ideology."