Gov. Northam apology tour
2/15/2019, 6 a.m.
Gov. Ralph S. Northam will attend a Virginia Union University chapel service on "Faith, Identity and Social Justice" next week as part of his "apology tour in the aftermath of his blackface photo controversy," university officials announced.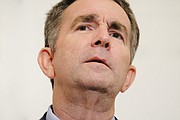 The event, which is free and open to the public, will be held 11 a.m. Thursday, Feb. 21, in the Allix B. James Chapel of Coburn Hall on the VUU campus, 1500 N. Lombardy St.
Former Richmond Mayor Dwight C. Jones, senior pastor of First Baptist Church of South Richmond, will speak.
There was no indication that Gov. Northam will do anything other than attend the event.
"We must continue the conversation regarding a path to move forward in response to last week's rally led by Rev. Al Sharpton and the National Action Network," the university stated in a news release announcing the governor's appearance. "It is important to bring the community together to begin to develop a plan to reach healing and reconciliation."