Training sessions aimed at developing new employees for East End market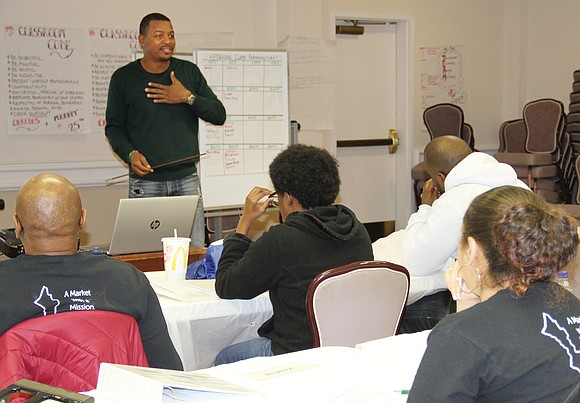 Then the person in the center answers a question of the day, such as how they would like to grow personally and professionally. Once they answer, they name a song that helps to illustrate their motivating idea. They sing it as the group joins in.
This kickoff to the daily sessions sets the mood for instructors to get into an array of concepts, including self and social awareness and personal and relationship management as it perpetuates excellent customer service.
Mr. White leads the group in exercises on confidence building and accountability. He sees his job not only as a facilitator, but also as a resource, teacher and motivator with an eye on the personal improvement of each person in the class.
With this first group of trainees, Mr. White said he has seen a lot of self-recognition, growing belief in one's self and values and dedication to the greater good.
"The group is receiving better and different information than they have historically been taught and acted on," Mr. White said. "They know it is better for them, and they agree with the personal and professional principles and behaviors the program presents. They are taking accountability for themselves, as well as the people around them."
Ms. Atkins-Comfort said she has seen the group members' growth in personality, awareness and stability, as well as the growing dependability and connections among them.
As the store's opening draws closer, she is excited because the potential future employees will deliver The Market @ 25th message as a place for fresh food and support services.
At the end of their training, new employees will have access to the CARITAS' two-year After Works program of ongoing professional training and employment resources.