Why Andy Warhol's Brillo pads and other things are kosher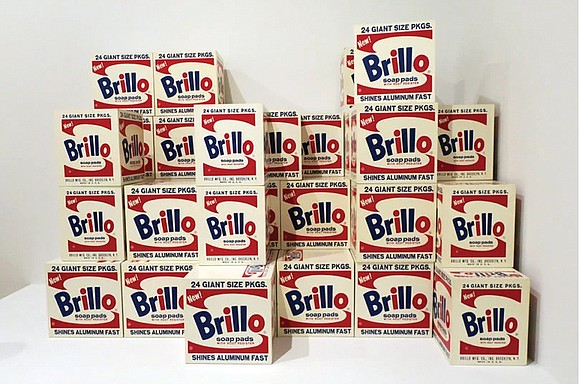 NEW YORK
When pop artist Andy Warhol set out to turn ordinary consumer goods into art, he got all the details right.
The familiar red-and-white color scheme of Campbell's Soup cans. The wooden crates once used to transport Cola-Cola bottles. The stamped letters on a box of Mott's Apple Juice.
The logo of the Orthodox Union, a letter U embedded within a larger O, displayed on the label of a box of Brillo pads.
Brillo pads, it turns out, are one of more than a million products certified as kosher by the OU, the major worldwide umbrella organization for Orthodox Jews.
Mr. Warhol's Brillo boxes with the OU symbol — currently on display in New York in the Whitney Museum of American Art's retrospective "Andy Warhol — From A to B and Back Again" — reflects how ubiquitous kashrut, the Hebrew word for the laws of kosher, has become in the United States, according to Rabbi Menachem Genack, CEO of OU Kosher.
"It is quite remarkable that kosher is so accepted very broadly in American society," Rabbi Genack said.
Jamie Geller, the Israel-based bestselling author of the cookbook "Joy of Kosher," called Mr. Warhol's Brillo boxes one of the quintessential examples of art imitating life.
"As far as I'm aware, this may, in fact, be one of the most famous works featuring a kosher symbol," she said.
Mr. Warhol also painted Campbell's soup cans, but those don't reflect the OU's kosher supervision. The OU once certified some Campbell's soups. Then the company began producing them in the same plant as non-kosher chicken soup, making it impossible to certify even the previously kosher ones, according to Rabbi Genack.
That Brillo pads require kosher certification may surprise both grocery store shoppers and modern art viewers. Other inedible products, such as paper plates, waxed paper and sandwich bags, may also be certified kosher.
Rabbi Genack uses the Hebrew word chumrah, extra-stringency, to refer to certification of inedible products like Brillo pads. Jewish law considers these products nifsal l'achilah, or unfit for eating.
Even if kosher certification isn't needed, some companies still want it as a selling point for their products.
"They're looking to emphasize this standard of quality, which the OU symbol represents," Rabbi Genack said.
And, of course, kosher isn't just for Jews.
Only about 1 million Americans keep strict kosher, according to Conservative rabbi and technology entrepreneur Jason Miller. "That'd be an awful business pitch to say that kosher is only for Orthodox Jews," he said.
The OU is aware that everyone from Seventh-day Adventists to Muslims to the lactose-intolerant, who appreciate the OU's careful labeling of dairy, make use of its certification.
"Kosher speaks to different constituencies, so companies are putting it on for a marketing device," Rabbi Genack said. "Some people look to the OU because they think — whether correctly or not — that it represents a standard in terms of quality. Or they're happy to know that there's another set of eyes looking through the plant."