Personality: Kevin Watson
1/25/2019, 6 a.m.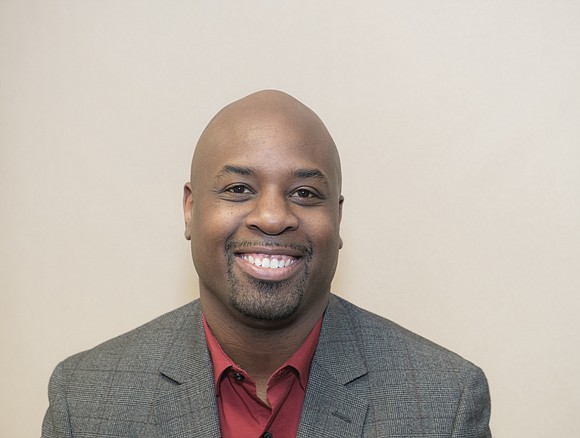 In addition to his work with Focus Our Future, Mr. Watson is a caseworker in Richmond with the Medicaid community coordinated care program. He reminds students that "sports is not the only thing in life."
Meet a sports realist dedicated to helping student-athletes focus on the future, and this week's Personality, Kevin Watson:
Community involvement: Founder, Focus Our Future Inc.
Date and place of birth: Sept. 16 in Richmond.
Current residence: Chesterfield County.
Education: Bachelor's degree in psychology, with a minor in coaching education, University of North Carolina at Chapel Hill; master's degree in public leadership, Virginia State University.
Family: Wife, Torie Watson.
Reason for founding Focus Our Future: My transition from sports to the working world wasn't smooth. After years as a working professional, I decided to create an organization that would help student-athletes have a smoother transition than I had in my career.
Focus Our Future's mission: To help prepare student-athletes for life after sports for the betterment of communities around the world.
A student-athlete is: Focused on their academic responsibilities while exercising their passion for sport.
Most valuable lesson learned from being a student-athlete: Proper time-management leads to the successful achievement of both short- and long-term goals.
How has being an athlete influenced your career aspirations: As an athlete in track and field, I spent hundreds of hours preparing for a race that lasted 14 seconds or less in hopes that I improved my race time by tenths of a second. The patience, attention to detail, faith and focus developed being successful in track and field influenced me to create an organization. Also, the leadership roles that I played as a captain and influencer on my teams made me more aware of how I can create positive environments with others for the purpose of accomplishing goals.
Why sports are important: Sports provide an environment for athletes to exercise their passions, values and ideals while serving as a wonderful form of entertainment for the athletes, participants and the observers. Sports also provide an environment for participants to learn life skills, such as discipline, accountability and responsibility, as well as build relationships with others while becoming more self-aware.
What track and field means to me: Track and field allowed me to live a dream that led to great friendships, opportunities and success in life. The sport helped me discover who I am and reminds me of the benefits of chasing my dreams. I find the technical aspects of all of the events beautiful, purposeful and meaningful.
What motivated me to get involved in community service: As an International Baccalaureate student, community service was mandatory. I grew fond of the many service projects I participated in over the years, and I loved the impact that I made in those respective communities. I participated in more than 100 hours of community service in high school.
Advice to student-athletes struggling to balance school, work, practices and games? I would encourage the athlete to write down a few short-term and long-term goals. To overcome issues juggling all of those things, I would encourage the student-athlete to actively use a calendar with alarms to track appointments, meetings, study sessions and practices that can motivate the student-athlete to accomplish their goals.