Dr. LaKeesha Walrond is breaking glass ceilings as new seminary president
Adelle M. Banks/Religion News Service | 7/4/2019, 6 a.m.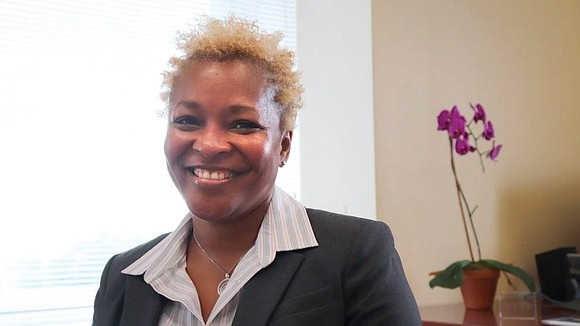 NEW YORK Sitting in her office on Manhattan's far west side, the new president of New York Theological Seminary, Dr. LaKeesha Walrond, recalled how she was reprimanded as a youth for crossing the pulpit area of her church during a choir rehearsal. Back then, she was taught and believed, that women could not be preachers. After a career as an educator, executive pastor of a Harlem megachurch and, since June 3, the first African-American woman president of the 119-year-old seminary, Dr. Walrond sees her trajectory as a sign that "God had this plan."
After serving at First Corinthian Baptist Church, where her husband, the Rev. Michael A. Walrond Jr., is senior pastor, she views her leadership of a 300-student multidenominational seminary focused on urban ministry as a reason for hope for other women.
Dr. Walrond, 47, spoke with Religion News Service about her diverse student body, her concerns about child sexual abuse and her support of open-mindedness among her students.
What does it mean to you that you've been chosen as the first African-American woman president of New York Theological Seminary?
It is such a blessing. It's such an honor. When I started my career, I was planning on presidency being part of it, but presi- dency at Spelman College. As I received my call into ministry and began working full time, I thought that would just be one of those dreams that never really came to fruition. So, for me, this feels like a coming together, a fulfillment of possibility and opportunity to work both in ministry and education in a way that transforms humanity.
What were your connections to Spelman?
I did my undergraduate education (at Spelman) and my president at the time was Dr. Johnnetta B. Cole. She changed my life forever. She was the first person I ever heard talk about heroes and "sheroes." And not just history, but "her-story." She made me believe that I could do absolutely anything, and not only that I could do it, but I had a responsibility to do it.
So you did pursue academia in some ways?
Absolutely. I did my master's in school administration and my Ph.D. in special education and literacy. But I got this call into ministry. We relocated from North Carolina to New York, and I said, "God, you got jokes, right?" because now I got to go back to school to get the master's of divinity so that I can be prepared to preach and teach in our church.
But this kind of merging of the two, it just seems like God had this plan. We talk about how God knows the plans that God has for us, plans to prosper us and not harm us, plans to give us a hope and a future. And so this is that moment for me, where I understand that sometimes in order to receive the dreams or plans that God has for us, we have to be willing to release the dreams and plans we have for ourselves.