GRTC's Kelsey Calder wins VTA's 2019 Unsung Hero Award
Kelsey Calder, a GRTC instructor who helps disabled people learn to ride buses safely, has won the 2019 Unsung Hero Award from the Virginia Transit Association.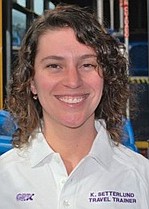 Ms. Calder was announced as the winner May 30 at the association's annual conference held in Portsmouth.
The VTA is a trade group for the state's bus and transit companies.
According to GRTC, Ms. Calder specializes in training people in the skills needed to use public transit safely and independently, particularly those with physical and mental challenges.
Ms. Calder "has been particularly helpful in introducing public transit to people with disabilities, youth or older adults who are hesitant to try transit alone," stated Sheryl Adams, GRTC's chief operating officer.
Ms. Adams estimates that Ms. Calder's efforts have saved GRTC $125,280 through helping customers transition from the more expensive paratransit service to traditional bus service.
Ms. Calder was the first person to earn national certification as a travel-training instructor through a program Easterseals and the University of South Florida offer at the school's Center for Urban Transportation Research.
The VTA also named GRTC a winner of a VTA marketing award for its "GRTC Pulse: More Time For Life" campaign. GRTC also was awarded an honorable mention in the community program category for the CARE On-Demand service.
GRTC noted the on-demand service has saved the company $382,000 since August 2017, when the program began.