GRTC sees rise in riders purchasing passes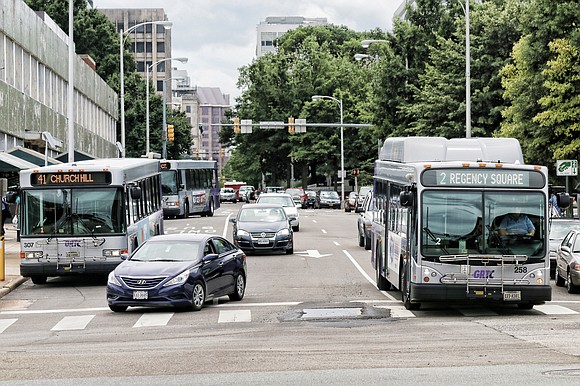 GRTC is carrying more people but taking in less money at the farebox.
According to GRTC, the reason is because more people are buying discount passes that allow unlimited rides for one day, one week or one month.
Forget all the talk about fare cheats and the rising tide of students from Virginia Commonwealth University who ride free under a contract the school has with GRTC. Instead, more people have figured out they don't have to pay full fare every time if they buy the right bus pass.
"GRTC has concluded that customers are increasingly taking advantage of the savings provided by these unlimited ride passes," GRTC spokeswoman Carrie Rose Pace said of the passes that were introduced four years ago. "We track usage and have seen a marked transition of customers using the passes" and taking more rides as a result.
The impact can be seen in GRTC's budget numbers, Ms. Pace stated. In the current fiscal year, GRTC expects to have collected $7.1 million in fare revenue from Pulse and bus riders when the current fiscal year ends June 30.
But GRTC projects that it will collect only $6 million from Pulse and bus riders in the 2019-20 fiscal year that will begin July 1, a nearly 16 percent decline.
Overall, Ms. Pace stated that GRTC currently recovers about 16 percent of its operational costs from fare revenue, which is below the national average of 20 percent and a sharp drop from 2015 when GRTC covered about 24 percent of its operating costs from fares.
The fare revenue decline in fiscal 2019-20 is coming despite the 17 percent increase in ridership that GRTC officials reported in mid-May.
GRTC's full fare, which has remained unchanged in the past few years, is $1.50 for a one-way ride in the city. If the ride includes a transfer, the cost is $1.75 one way. According to the transit company's data, sales of full fare tickets have dropped 41 percent in the past two years.
GRTC also has not raised the price of the single and multi-day passes that provide unlimited rides since their introduction in 2015.
According to GRTC data, the majority of bus riders now pay $3.50 for a one-day pass, which allows riders to take unlimited rides on Pulse, the 7.2-mile bus rapid transit run between The Shops at Willow Lawn and Rocketts Landing, and the regular buses for that day.
Only a small fraction of GRTC riders pay for weekly or monthly passes, but those who do see major savings, and the number of customers buying those passes is beginning to rise, Ms. Pace stated.
A seven-day unlimited pass is $17.50. Transit riders can save $7 a week with the pass compared with paying for a $3.50 daily pass for seven days.
And the savings grow even larger for riders who spend $60 for a 30-day pass; they save $45 over the month for just one round-trip a day with a $3.50 pass. The savings are even more if riders take multiple bus trips daily.
The data on declining income caught the attention of Richmond City Council members during budget discussions. But council members were certain it had to do with thousands of people jumping on the Pulse and riding without paying, even though no council member or GRTC officials could produce evidence to support the claim.
Only about 300 people have been found in the past 10 months attempting to ride Pulse without paying, according to GRTC officials.
Under contracts with City Hall and VCU, GRTC is carrying more riders who can ride for free, including city high school students as well as staff and students from VCU.
Despite the decline in fare revenue, GRTC's staff has told the transit company's six-member board of directors that the company expects to finish the year without a deficit despite such claims by some media outlets to the contrary.
Ms. Pace stated that GRTC will adjust its approved 2019-20 budget to reflect the final numbers that City Council approved in finalizing the city's budget for the new fiscal year beginning July 1, and she stated the budget would be balanced without a deficit.