New police chief promoted from the ranks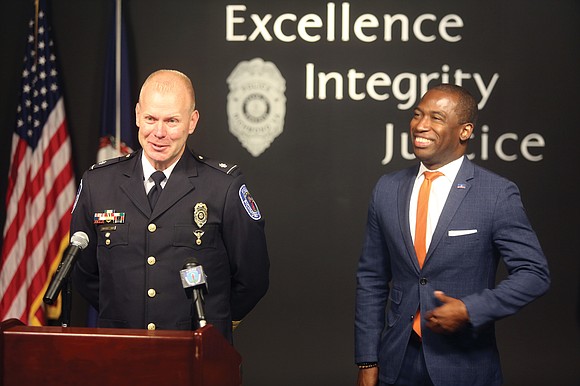 Six police chiefs have come and gone since William C. "Will" Smith joined the Richmond Police Department as a patrolman in 1995.
Now after rising through the ranks, the 51-year-old Richmond native will face the challenge of leading the perennially short-handed department in seeking to prevent and solve the crimes that plague the city and its residents.
Mayor Levar M. Stoney Wednesday named Chief Smith the city's 19th police chief after watching him handle the department for the past six months as interim chief.
The decision drew cheers and applause during an afternoon news conference at the department's Grace Street headquarters and statements of praise from two former chiefs, including his predecessor, Alfred Durham, who had encouraged Chief Smith's appointment before he left in December.
Considered one of most significant appointments the mayor can make, the decision was announced as the department sought to chase down a suspect in a high-profile hit-and-run case from earlier in the day that left one dead and three injured in Shockoe Bottom in the aftermath of an argument at a club.
Essentially, the mayor chose stability over change in removing the interim label from Chief Smith's title and handing him the leadership reins instead of hiring someone from outside as previous mayors and City Councils have done.

The new chief is to receive a $5,000 raise to start at $160,000. He will be formally sworn in at a ceremony at a later date.
Chief Smith indicated that he is not planning any changes in the department's leadership that he inherited and has installed since taking over from former Chief Durham, who departed to become the National Football League's chief of security.

A soft-spoken man known for his steadiness and responsiveness, Chief Smith is the first Richmond officer who spent his career within the department to gain the top cop post in the 52 years since Frank S. Duling was named chief in 1967. Since 1989 when Chief Duling retired, only former chiefs Ray Tarasovic and Alfred Durham have had some experience with the city department before their appointment.
Chief Smith will oversee a department with a nearly $100 million annual budget and a staff of more than 900 people, including an authorized complement of 754 officers. Like his predecessor, though, he can only deploy about 650 officers, given vacancies, disciplinary, medical and military leave and other reasons that reduce the actual size of the force.
Mayor Stoney noted that the city conducted a national search and that he sought community input before naming Chief Smith, to the critical public safety post that has largely been filled by African-Americans since Marty M. Tapscott replaced Chief Duling.
The mayor, who heard plenty support for Chief Smith before he made the pick, praised him as "thoughtful, detail-oriented, accountable, compassionate and fair" and committed to the community style of policing that has been in place since 2007 during the tenure of Chief Rodney Monroe, who was among those who interviewed the finalists for the position and who agrees with the mayor's choice.
"Over the last six months as interim chief, I believe he has demonstrated the dedication to duty, willingness to confront challenges head on and commitment to serve the community that our city needs and our residents deserve," Mayor Stoney continued. "I believe he has what it takes to lead the men and women of the RPD in a positive direction to protect and serve our community in the spirit of inclusivity and equity that are the foundation of One Richmond."
In his turn, Chief Smith embraced the mayor and thanked him and city Chief Administrative Officer Selena Cuffee-Glenn as he described himself as an "emotional guy" who was "humbled by the opportunity to serve this city" and by the support he has received from the city and the community.
He pledged to continue the department's efforts to build relationships with residents that he called a key to public safety and to make the department "even more accountable and available."
Chief Smith told the Free Press that he plans to work with Dr. Liz Coston, a sociology instructor at Virginia Commonwealth University, and other critics with the Richmond Transparency and Accountability Project in considering the design of a new records management system that would make police information and data more accessible to the public.
He also said he plans to make internal changes to improve the department's efficiency and deployment of staff. He noted the department is the one point of public contact that is available 24 hours a day, 365 days a year. Much of that contact involves reported crime, but also includes calls for service with other problems, he said.
He said the department could do a better job of connecting people with services, adding that he already has assigned staff to determine ways to create closer relationships with partner organizations to be of better service.
He cited the effort to combat the opioid epidemic as an example where connections among organizations could be strengthened.

Citing the case of the Shockoe Bottom hit-and-run, Chief Smith also said he plans to consider how the department might better deal with the kind of cases that involve people with anger control issues and an inability to resolve conflicts peacefully. He said finding possible ways to deal with sudden rage would be a focus.
Congratulations and well wishes began pouring in following the appointment.
City Council President Cynthia I. Newbille stated that Chief Smith has proven "to be committed, collaborative and community-oriented, and I look forward to continuing to work with him going forward."
Melvin Jones, who led the effort for the statue honoring Maggie L. Walker, called the chief "a fair, upstanding man who knows this city. The officers and community members I've talked to believe in his ability to lead."
Paul Taylor of the two-year-old RVA League for Safer Streets, also expressed support, noting that "Chief Smith knows our community," a point that Carver Civic Association President Jerome Legions Jr. also made in stating that "Richmond will have at the helm someone who doesn't have to learn about the city, but someone who can build on enhancing our communities"
Richmond Branch NAACP President James E. "J.J." Minor III said he looks forward to working Chief Smith on "ways to decrease crime in our community."
Chief Smith, who was born into a Richmond family that later moved to Powhatan County, earned a bachelor's degree from VCU. He also is a graduate of the Police Executive Leadership School at the University of Richmond and the Senior Management Institute for Police in Boston.