Mr. CIAA is OK
3/8/2019, noon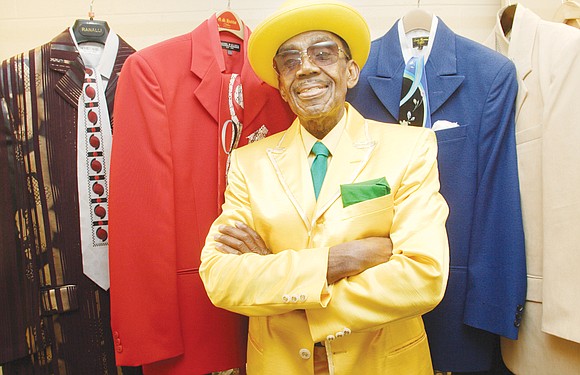 Where in the world is Mr. CIAA?
That was the big question on the minds of CIAA fans last weekend when Abraham "Ham" Mitchell, known as Mr. CIAA, was conspicuously absent from the annual basketball tournament.
For more than four decades, Mr. CIAA has been a fan favorite as he struts his colorful, one-of-a-kind suits through the tournament arena, often changing his dazzling outfits during halftime from the colors of one team to that of the opposing team.
Cameras flash as people photograph him in his stylish attire, often stopping him to talk and take pictures with him.
But he was absent from this year's tournament held Feb. 26 through March 2 at the Spectrum Center in Charlotte, N.C. And people noticed. Many were worried that something happened to Mr. CIAA, a senior citizen who doesn't tell his age.
The Free Press learned Tuesday that Mr. CIAA is OK.
He missed the tournament because of a transportation mix-up.
It was really that simple, Mr. Mitchell explained. "My car was in the shop needing a front end alignment and my nephew arranged for someone else to drive me to Charlotte."
His nephew, Peter Mitchell, who played on Norfolk State University basketball teams that won three CIAA titles in the early 1970s, claimed responsibility and remorse for the problem. He has been taking his uncle to the tournament since 1975, but because of a business commitment this year, asked a friend to drive Mr. Mitchell from his home in Suffolk to Charlotte instead.
"My friend didn't show up," Peter Mitchell said. "I don't think he knew the significance of my uncle's appearance or his historical entertainment and engaging role at the tournament.
"It was totally my fault," he continued. "I feel bad about it."
Mr. CIAA had prepared 10 new suits, matching shoes and walking canes for the basketball classic and was ready, too, for an interview with radio personality Tom Joyner during the "Sky Show" on Friday, March 1.

The interview never took place.
Mr. Mitchell, who was inducted into the CIAA Hall of Fame in 2016, and his nephew said they will not miss next year's tournament, which will be the last one held in Charlotte before the tournament moves to Baltimore through 2023.
And because Mr. CIAA didn't get a chance to wear this year's assortment of attire, he promises next year there will be a double dose of fashion entertainment and excitement.