2019 Richmond History Makers honored
3/15/2019, 6 a.m.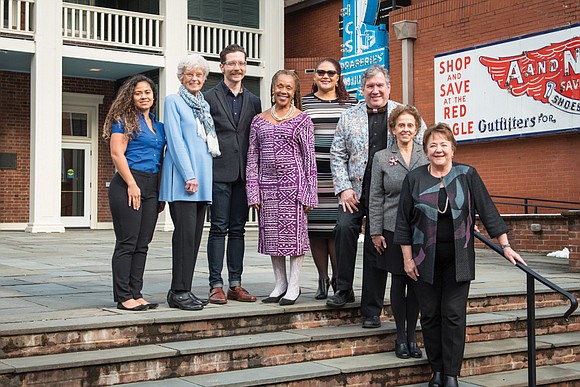 Five people and two organizations were honored Tuesday as the 2019 Richmond History Makers by The Valentine and the Capital Region Collaborative.
The community trailblazers were recognized for their contributions to the Richmond region at a celebration held at the Claude G. Perkins Living and Learning Center at Virginia Union University.
The winners were chosen by a selection committee made up of Leadership Metro Richmond graduates and former honorees.
The honorees and their categories of distinction are:
• Charleita M. Richardson – creating quality educational opportunities
Ms. Richardson, president and chief executive officer of Partnership for the Future, helps students with limited resources transition from high school to college and employment. The Richmond native and Richmond Public Schools graduate considers it a personal mission to help students reach their dream of going to college.

• Jill Hanken – championing social justice
As a health attorney with the Virginia Poverty Law Center for more than 30 years, Ms. Hanken advocates for improvements and access to public health insurance programs, including newly expanded Medicaid coverage that will serve more than 400,000 Virginians. She also assists in leading the Health Care for All Virginians coalition and directs the Enroll Virginia navigator project offering application help for the federal marketplace and other health insurance coverage.
• Dolly Hintz – promoting healthy communities
Ms. Hintz helped establish the Hospital Hospitality House, now The Doorways, in 1984, and as president of the board in 1994, was instrumental in expanding the organization's reach with the purchase of a former Downtown hotel to accommodate more families. As a result, more than 175,000 patients and their families from every state and 31 countries have received lodging and non-medical services in an emotionally supportive setting at little or no cost.
• Candice Streett – demonstrating innovative economic solutions
As executive director of the Virginia Local Initiatives Support Corp., Ms. Streett, focuses on providing Richmond residents with thriving communities of choice and opportunity. For the past nine years, she has led LISC's economic development work, designing three small business programs and launching four financial opportunity centers that connect residents to resources and coaching for sustainable businesses and financial stability.
• Janine Bell and Richmond Triangle Players – advancing quality of life (two honorees in this category)
Ms. Bell is the founder and artistic director of the Elegba Folklore Society, which offers African and African-American heritage experiences through annual festivals, performances, workshops, cultural history tours and visual arts. For 29 years, EFS has featured a pathway to enrichment, education and affirmation programming called "life changing."
The Richmond Triangle Players, founded in 1993, is the longest continuously operating professional theater in the mid-Atlantic devoted to LGBTQ works, artists and themes. The company has won local and national acclaim. Executive Director Philip Crosby has guided the company during the last decade, moving it from an itinerant company to a cultural anchor of the Scott's Addition neighborhood.
• BikeWalkRVA – improving regional transportation
This Sports Backers' advocacy initiative is committed to making walking and biking safe, convenient and comfortable for people of all ages and abilities. The organization promotes construction of multi-use trails, protected bike lanes, sidewalks and safe neighborhood streets so that walking and biking are part of daily transportation in the region.