Still funding Confederacy
Years of taxpayer money has kept Confederate cemeteries in pristine condition. Can there be true equity for historic African-American burial grounds?
Brian Palmer | 3/22/2019, 6 a.m.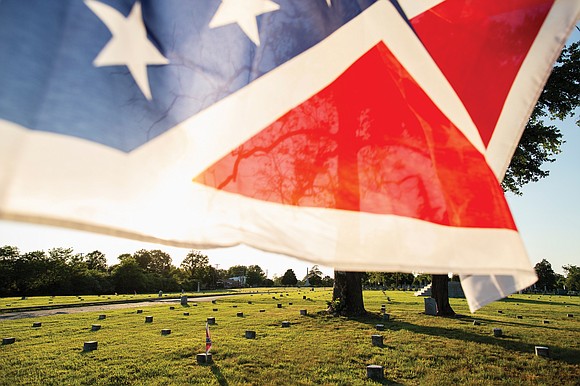 Of the 405 Civil War monuments in Virginia, 378 celebrate the Confederacy, according to data compiled by the state Department of Historic Resources. Most county seats and many cities have monuments to Confederate leaders and soldiers in their public squares. Taxpayer money goes to maintain some of these, including large amounts spent on a few grander ones, such as the Robert E. Lee equestrian statue on Richmond's Monument Avenue. That one Richmond monument has benefited from roughly $174,000 in state money over the past decade — a figure that does not include $570,000 in tax dollars spent by the City of Richmond to prepare for and surround the Lee statue with law enforcement officers during a September 2017 rally by neo-Confederates just weeks after the violent and deadly rally by pro-Confederate groups in Charlottesville.
The amount of tax dollars spent on such Confederate monuments in Virginia vary widely. Some jurisdictions, such as Albemarle, Hanover, Surry, Westmoreland and Scott counties, spent nothing — or have no record of spending anything — during the 14-year period from 2005 through 2018.
Some counties report that they could not separate such expenses from larger budgets.
"Maintenance of the noted monument is part of the general building and grounds regular maintenance projects," a Gloucester County administrator wrote in response to a Freedom of Information Act request. "Expenditures for specific areas/facilities/objects are not noted individually."
Other counties spent small amounts. In May 2017, Goochland County spent $200 to clean its Confederate monument. Northumberland paid $80 to sandblast its monument in 2006. Frederick County spent $2,400 to clean and polish its monument in 2009. In 2006, Orange County spent $5,000 to clean its Confederate monument.
But some cities and counties have spent much more. In 2013 and 2014, Highland County paid more than $50,000 on consulting and "restoration and renovation" of the Confederate monument outside its courthouse, according to invoices provided by County Administrator Roberta Lambert. Between June 2005 and December 2015, the City of Portsmouth paid private contactors $87,000 to clean its vandalized monument and later restore it.
But small amounts are not insignificant. They are part of a centuries-long program of taxpayer support for all kinds of Confederate sites and are another signal of continued white domination over formerly enslaved populations.
In 1902, an all-white male convention pushed through a new Virginia Constitution that placed additional restrictions, literacy tests and a poll tax, on African-Americans' voting rights. African-American political power evaporated. The Constitutional Convention's goal, state Sen. Carter Glass announced at the time, was "to eliminate the darkey as a political factor in this State" and ensure "the complete supremacy of the white race in the affairs of government."
They succeeded, with roughly 90 percent of eligible black voters suddenly becoming ineligible to cast ballots. These efforts — building monuments to Confederate magnificence and crushing African-American political and human rights — had always gone hand in hand.
"The great crime of the century was the emancipation of the negroes," former Confederate Gen. Bradley T. Johnson told a crowd gathered in 1896 to witness the laying of the cornerstone for the monument honoring Confederate President Jefferson Davis on Richmond's Monument Avenue.