America's 'national pastime' forges bonds, records between fathers and sons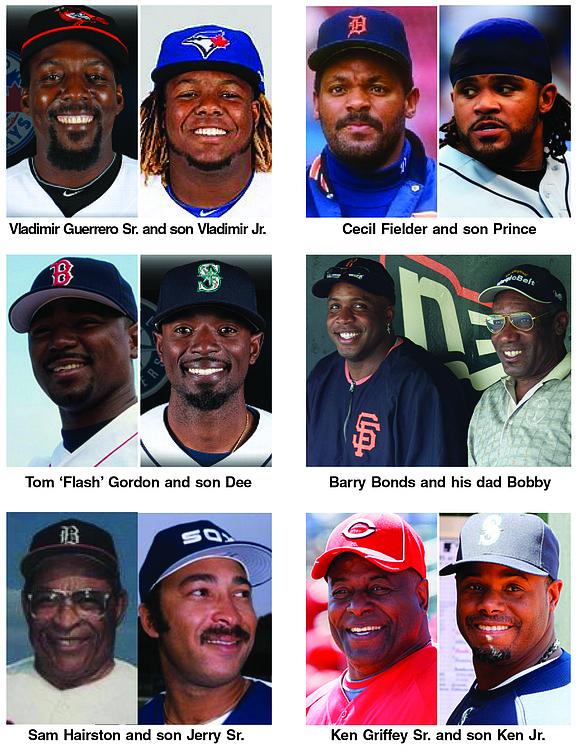 Baseball has been said to be a "daddy's game." 
Find a talented player and, more often than not, you'll find a father or strong father figure closely linked to the youngster's success.
It's that caring adult who bought the child his first glove, pitched to him in the backyard, signed him up for Little League and took him to his first big league game.
Rarely does success happen by accident.
Keeping that in mind as we head into the warm weather of the National Pastime, here are some shining father-son examples on the highest level.
Vladimir Guerrero Sr.-Vladimir Guerrero Jr.  
Vladimir Jr. already wears his father's jersey number, No. 27, on his Toronto Blue Jays uniform.
Now at age 20, Vladimir Jr. will try and chase his dad's Hall of Fame slugging numbers.
Vladimir Guerrero Jr. and Vladimir Sr. represents baseball's most talked about second generation act. There's much to live up to.
Vladimir Sr., a native of the Dominican Republic, was a nine-time American League All-Star, American League MVP in 2004 and a 2018 inductee into the Baseball Hall of Fame.
Vladimir Jr., born in Montreal when his dad was starring with the Montreal Expos, is among the most talked about players in the game. After tearing up the minors — including a stint last summer for the AA New Hampshire Fisher Cats when he played against the Richmond Flying Squirrels — the younger Guerrero was called up to the Toronto Blue Jays on April 26 from the AAA Buffalo Bisons.     
In his first game, with his dad watching from the press box, Vladimir Jr. socked a game-deciding double in a Toronto win.
Tom "Flash" Gordon-Dee Gordon
An infielder now with the Seattle Mariners, Devaris "Dee" Gordon ranks with the fastest men in the game. He has 316 career stolen bases and led the AL in hitting in 2015 with a .333 average.
His dad, Tom "Flash" Gordon, was a strong-armed pitcher from 1988 to 2009. In 21 seasons on the mound, he won 138 games and struck out 2,108 batters.
When Dee was 8, his mother was shot and killed. Dee was raised by his dad and his dad's mother.
Sam Hairston-Jerry Hairston
Two generations of big leaguers is rare. now consider the odds for three generations to play in the big leagues.
Sam Hairston played many years in the Negro Leagues before making it to the "bigs" in 1951 with the Boston White Sox. His name would live on and on.
His son, Jerry Sr., and two grandsons, Jerry Jr. and Scott, enjoyed substantial big league careers.
Jerry Sr. played in the majors from 1973 to 1989, Jerry Jr. from 1998 to 2013 and Scott from 2004 to 2014.
Cecil Fielder-Prince Fielder
The elder Fielder, a big league first baseman from 1985 to 1998, was among the most feared hitters in the game. He helped the Detroit Tigers to the1996 World Series title, twice led the AL in homers and three times in RBIs.
At a young age, Cecil converted Prince from a right-handed hitter to a lefty, believing it would enhance his career. It did.