Albert Pujols hits 600
Fred Jeter | 6/9/2017, 12:26 p.m.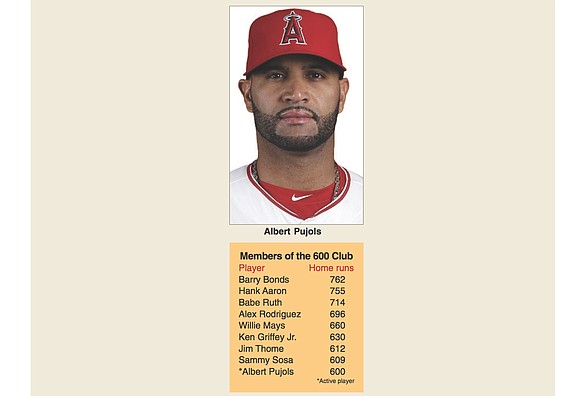 Major League Baseball's exclusive "600 Club" is rich with people of color.
Four of the nine players to hit at least 600 career home runs are African-American, and three others trace their ancestry to the Dominican Republic.
Albert Pujols, born in Santo Domingo in 1980, is the latest to reach the majestic 600 peak. The Los Angeles Angels first baseman/designated hitter swatted No. 600 on Sunday, June 4, during the team's game against the Minnesota Twins. The Angels lost 3-2 in Anaheim.
Other Dominicans on the 600 list are Alex Rodriguez and Sammy Sosa. Rodriguez was born in the Washington Heights section of New York City to Dominican parents. He moved with his family to the Dominican Republic at age 4, and later moved to Miami.
Sosa was born in San Pedro de Macorís in 1968.
African-Americans on the elite list are all-time leader Barry Bonds, Hank Aaron, Willie Mays and Ken Griffey Jr.
Bonds, who was born in Riverside, Calif. in 1964, and Griffey, who was born in Donora, Pa., in 1969, are sons of former big leaguers Bobby Bonds and Ken Griffey Sr., respectively.
Aaron was born in Mobile, Ala., in 1934. Mays was born in Westfield, Ala., in 1931. Both Aaron and Mays played in the Negro Leagues before signing with major league squads.
Babe Ruth, who was born in Baltimore in 1895 and retired in 1935, held the record of 714 home runs until surpassed by the Atlanta Braves' Aaron in 1973. In 2006, San Francisco's Bonds passed Aaron's record.