Star Barbershop winning games at a steady clip
Fred Jeter | 7/26/2018, 6:04 a.m.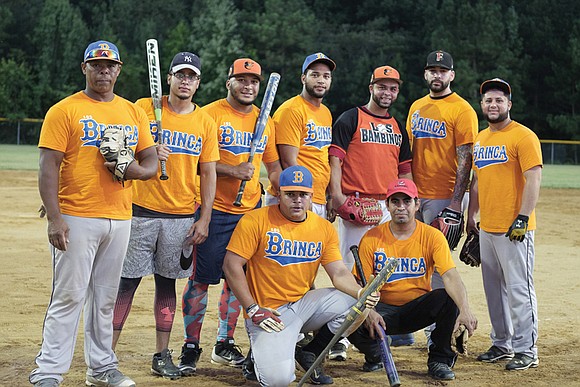 Star Barbershop is winning softball games at a steady clip in Chesterfield County.
The team is unique in that it is comprised largely of barbers and entirely of players with links to the Dominican Republic.
"We are Dominican; we are together," said Martin Guzman, who routinely launches home runs over the 300-foot fences at Warbro Athletic Complex in Midlothian.
Star Barbershop's jerseys read, "Los Brinca," meaning "jumpy" in Spanish. The team has ample cause to jump for joy regarding their dominance in the Wednesday League.
Following a July 18 double-header rout of over-matched Yankdeez, Star improved to 16-2-1. The team now has its sites set on both regular season and playoff titles.
"Last year, we didn't make the playoffs," said manager-pitcher Hugo Rodriguez. "Since then, we added a couple of extra guys. We're much better."
Barbershop conversation spreads.
Rodriquez suggests that if there is a talented player of Dominican ancestry in the area, he will hear about him.
"Around Richmond," he said, "there is a close-knit Dominican community."
While Rodriguez and most of his players speak some English, Spanish is clearly the first language on the field, with plenty of laughter mixed in that requires no translation.
"Many of us work long hours. I have 12-hour days," said stylist Frank Chenet, who stands out for his 6-foot-4 frame and long locks tied up in a bun.
"We keep it fun when we're out here. This is fun time."
The 50-year-old Rodriguez is owner of Star Barbershop on Hull Street Road in South Richmond and Martha's Beauty Salon that has three locations.
Some of Rodriquez's players cut hair at Star Barbershop, while others work at different shops — Chino's, Major League, The Spot and La Magia — all with a New York-Dominican flair.
Many, including Rodriguez, have lived for a time in New York City, chiefly the Washington Heights neighborhood in Manhattan. Washington Heights, also referred to as "Quisqueya Heights," has become something of an epicenter for Dominicans in the United States.
While Rodriguez is the squad's elder statesman, his son, left-fielder Onil Salazar, a student at J. Sargeant Reynolds Community College, is "the kid" at 20.
Guzman, 41, boasts the team's most impressive baseball resume.
Signed by Tampa Bay as a teenage catcher in his native Dominican Republic, Guzman played for the Rays' affiliates as recently as 1997 in the Appalachian and Gulf Coast Leagues. He also has played professionally in Japan.
Also on the team are Jose Castro and Kelvin Marte, who led James River High School in Chesterfield County to the Central Region finals in 2013, losing to the eventual state champ, Hanover High School. Castro and Marte later played at Patrick Henry Community College in Martinsville.
Castro, an electrician, hits leadoff with surprising power, has sprinter's speed and plays a brilliant brand of shortstop. He fires softballs across the infield with such fierce velocity you actually feel sorry for the first baseman having to catch it, and hold your breath that the base runner doesn't get conked.
On offense, there is star power aplenty.
"We've got lots of cleanup hitters," said Chenet.
Weaknesses, if any, are hard to find. It's almost like the Star Barbershop team has a "head start" on its competition.
Players from the DR
Baseball players from the Dominican Republic have been major achievers in the sport.
In 1956, the New York Giants added infielder Ozzie Virgil, a native of the Dominican Republic, to its big league baseball roster.
Virgil was the first player from the Caribbean nation to reach the major leagues. A tidal wave of Dominican talent has followed.
Nearly 100 Dominicans were on big league starting rosters this season and several hundred more throughout the minor leagues.
Seven Dominicans were named to the recent All-Star Game in Washington.
Dominican born pitchers Juan Marichal and Pedro Martinez are members of the Baseball Hall of Fame, with more expected to follow, most notably David Ortiz, who retired in 2016, and still active Albert Pujols.