Third generation MLB player keeping tradition going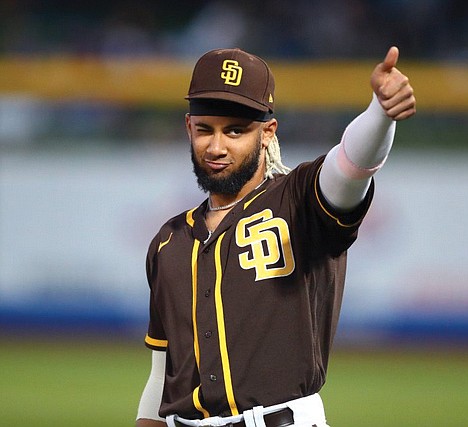 Baseball is said to be a "daddy's game" and, not surprisingly, there have been numerous father-son combinations in professional baseball.
Grandfather-father-grandson combinations are much more rare.
The Tatis family, originally from the Dominican Republic, spans three generations of pro ball with Fernando Gabriel Tatis Jr. now among the sport's most glowing up-and-comers.
Tatis, 21, is the leadoff-hitting shortstop for the San Diego Padres. He sparkles in every phase of the game in his brown, gold and white uniform, which the team switched to this year.
The 6-foot-3, 217-pound prodigy is a must-see player with a growing fan base. He aims to please every time he takes the field.
"Every time I go to the park and the game is about to start, I tell myself, 'It's time to make history,' " he told Matt Kelly of MLB.com.
Padres teammate Ed Hosmer told MLB. com.: "There's no question he is the face of the franchise, and I think he's going to be the face of the game very, very soon."
As a 20-year-old last season, Tatis came in third in the National League Rookie of the Year balloting. In just 84 games following a minor-league call-up, he hit .317 with 22 homers, 53 runs batted in and 16 stolen bases.
Defensively, his speed, strong arm, sure hands and instinct make him a Golden Glove candidate. He also excels in an unofficial category — excitement. Tatis plays with a flair, his dreadlocks flapping from under his cap.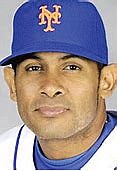 Through 24 games as of Aug. 17, Tatis was leading the National League with 11 home runs and 28 RBIs. He is the only shortstop in big league history with such a fast takeoff. He got his nickname "El Nin͂o"—meaning powerful storm in this case — from his father, Fernando Gabriel Tatis Sr., who recognized his son's talent at an early age.
Tatis Sr., a versatile infielder, played in the majors from 1997 to 2010, collecting 113 homers and 448 RBIs while averaging .265.
He holds the big league record for most RBIs in an inning — eight — with two grand slams in the same frame in April 1999 off the same Los Angeles Dodgers' pitcher, Chan Ho Park.
Tatis Sr. was preceded on the pro circuit by his father, Fernando Aanonio Tatis, who served as an infielder in the Houston Astros chain from 1969 to 1978. Tatis, the grandfather, also man- aged in the Houston farm system.
And that's not all. Tatis Jr.'s younger brother, Elijah, 19, who was born in Miami, is an infielder in the Chicago White Sox organization.
Tatis Jr. was signed at age 16 by the Chicago White Sox. But before he played his first pro game, he was traded to San Diego for established pitcher James Shields, a former big league All-Star.
It's a trade the White Sox probably wish they hadn't made. Shields retired following the 2018 season while Tatis has emerged as a shining light for many years to come.
---
There are numerous other father-son stories on the current MLB rosters.
Cody Bellinger, the 2019 National League MVP for the Los Angeles Dodgers, is the son of former infielder Clay Bellinger, who was part of two New York Yankees World Series championships.
Slugging third baseman Vladimir Guerrero Jr., in his second season with the Toronto Blue Jays, isthesonofnine-timeAll-StarVladimirSr.
The Seattle Mariners' Dee Gordon, a three- time stolen bases champ, is the son of longtime ace relief pitcher Tom "Flash" Gordon.
Ke'Bryan Hayes, third baseman for the Pittsburgh Pirates, is the son of Charlie Hayes, who played infield in the majors from 1988 to 2001.
---
Then there are these Hall of Fame caliber father-son combos from yesteryear:
• Barry Bonds and father Bobby Bonds
• Ken Griffey Jr. and father Ken Griffey Sr.
• Prince Fielder and father Cecil Fielder
• Roberto Alomar and father Sandy Alomar
• Moises Alou and father Felipe Alou
---
The Tatises aren't the only grandfather-father-grandson combo.
Also covering three generations were grandfather Sam Hairston (played in 1951), father Jerry (1973 to 1989) and grandsons Jerry Jr. (1998 to 2013) and Scott (2004 to 2014).