'Something in the Water'
By Nia Tariq | 5/3/2019, 6 a.m.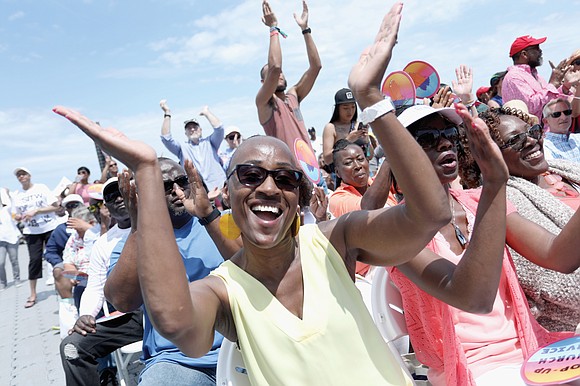 "Something in the Water," the weekend music festival in Virginia Beach pioneered by that city's own nationally known singer and songwriter Pharrell Williams, drew more than 50,000 happy people to the oceanfront for the first-of-its-kind event in Hampton Roads.
Although the festival was planned for three days, strong winds accompanied by lightning and a torrential downpour on Friday pushed the weekend's events to Saturday and Sunday when festival-goers lined up in sun and sand for entry and tourists populated the balconies of oceanfront hotel rooms for hours on end to people watch and listen to the music.
It was "Black Coachella," as festival attendee Alex Jackson of Washington put it.
"It's amazing when black people come together what we can do," Mr. Jackson said. "People can come to a concert on the ocean and vibe, too. Best weekend of my life."
Performers ranged from the 804's pop and R&B sensation Chris Brown, Virginia Beach's Pusha T and Portsmouth's Missy Elliott to Odd Future founder Tyler, the Creator and neosoul singer Jhené Aiko, who are California natives.
The set "Pharrell & Friends" closed the show on Saturday with advertised appearances by Snoop Dogg, P. Diddy, Busta Rhymes, Timbaland and Usher and a surprise performance by Jay-Z.
Sunday's lineup brought in more unexpected guests, including SWV's Coko Clemons and the members of Guy and Blackstreet during Teddy Riley's new jack swing throwback performance that featured the song "Rump Shaker," whose iconic music video set in 1990s Virginia Beach was playing in the background.
Rain started pouring during Sunday's performance by soul singer and former Gap Band front man Charlie Wilson. But, later, fans were provided an unforeseen reward for their wait when Petersburg's Trey Songz emerged for a duet with Mr. Brown, a native of Tappahannock.
Although centered around music, "Something in the Water" also paid homage to the local community and small businesses. Through various partnerships, the festival facilitated a pitch competition for local start-ups, the opening of an elementary school community garden, the collection of canned goods for donation and more.
Inclusivity was embraced during several performances through the help of American Sign Language interpreters on stage. And a cleanup day was held Monday by local volunteers.
"I think this is really great for the community because it brings people out and it boosts up the economy by bringing money in. I definitely commend (Pharrell) on doing this," said Shavanda Rountree of North Carolina. She and her kindergarten-age son, Bréon, attended Sunday afternoon's Pop-Up Church Service on the beachfront. The event was one of a few opportunities during the festival for non-ticket holders to participate.
"It's been a great time just being here and seeing all these people," Ms. Rountree said. She said when her son gets older, it will be important for him to remember certain experiences, with the pop-up service being a good example.
"Pharrell made sure that he didn't disappoint Virginia," Ms. Elliott said after her performance Saturday. Looking back on the failure and violence of Greekfest on Labor Day weekend 1989 — the last major event on the Virginia Beach oceanfront that catered to the African-American community — she and Diddy, a Howard University alumnus, lauded Mr. Williams' efforts in regaining the city's trust.
More recently, the last weekend of April, which is popularly known in the area as College Beach Weekend, had become a point of tension with local businesses and police because shootings, stabbings and fights have broken out among the large crowds of students. Turning the page this year, the tens of thousands of young people lining the streets for "Something in the Water" were welcomed by businesses, a safer night entertainment scene and a less intrusive police presence.
"To be able to attend the first ever 'Something in the Water' festival is an experience I will forever cherish," said Stormy Evans, a Californian who is stationed in Norfolk with the Navy. "Overall, Pharrell did an amazing thing for the seven cities (of Hampton Roads). And I bet whoever didn't want to go this year will be the first to buy tickets next year."
Festival organizers already have hinted at plans to make another splash next year. Based on the weekend's success, Mr. Williams has said he expects its return in 2020.