Boushall Middle School Choir wins
5/24/2019, 6 a.m.
Jaheem Hewlett won the best soloist award in helping the Boushall Middle School Choir become middle school grand champion Saturday during the 2019 Musicale band and choir competition at Busch Gardens in Williamsburg.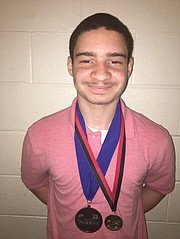 Jaheem, who also earned the top middle school soloist award in the 2018 Musicale, won with a rendition of "This Land Is Your Land," said Will Griffin, who directs the South Side school's choir.
The 20-member choir also earned superior and excellent ratings in the three competition sections for gospel, men's and treble choirs, topping competing choirs from Virginia and other states, Mr. Griffin said.
Mr. Griffin, who previously directed Armstrong High School's choir, said this was the best showing for Boushall in three appearances at the competition organized by music events company Spectrum of Richmond.
The awards add to the choir's recent recognition. The choir performed earlier this year at the Cherry Blossom Festival in Washington and during the Christmas holidays at the Jefferson Hotel in Richmond and Christmas Town at Busch Gardens.