Black head coaches rare at top tier of college basketball
Craig Meyer/Pittsburgh Post-Gazette Associated Press | 11/15/2019, 6 a.m.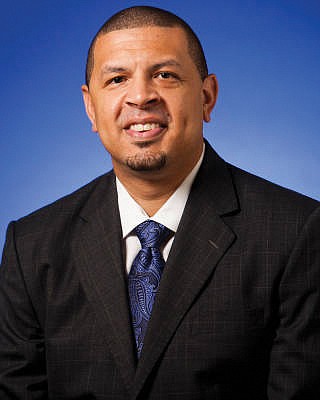 PITTSBURGH Jeff Capel carries a measure of gratitude with him every time he paces the sideline at Petersen Events Center.
As he enters his second season as Pitt's basketball coach, he thinks of his late father who went from a volunteer JV high school coach to head coach of an NCAA tournament team in fewer than 20 years. He thinks of John Thompson and Nolan Richardson, national championship-winning coaches who doubled as aspirational figures. He thinks of all the other black coaches who never reached those same heights, but whose achievements helped make his story possible.
"I'm here because of my dad and because of the guys I just mentioned, because of their shoulders and because of the things they did to open up the door," Coach Capel said.
Now, at age 44 and in his 11th season as a Division I head coach, a future that once seemed so boundless for men like him seems dimmer.
Pitt's game Wednesday against Florida State wasn't only going to be unusual because it's the rare conference matchup to open a season; it's also because each team is led by a black coach, with Coach Capel on one bench and Leonard Hamilton on the other. In a sport in which a majority of assistant coaches and an overwhelming majority of the scholarship players are black, the number of black head coaches lags behind.
Of the 75 programs in college basketball's six major conferences, only 14 have a black head coach (18.7 percent). If the count is limited to the so-called Power Five leagues, eliminating the Big East and its five black head coaches, that number dips to 13.8 percent. The percentage of black head coaches in those six conferences is lower now than it was during the 1996-97 season, when Coach Capel was a senior at Duke University.
To those in the sport, particularly those most affected by it, it stands as a glaring and maddeningly resilient set of numbers that, even when they prompt discussion, has seldom led to change.
"As long as this continues to go on, you're always going to have coaches who are getting left out and are not getting those opportuni- ties," said LeVelle Moton, head coach at North Carolina Central. "It's heartbreaking, man. It's really heartbreaking."
Shortage at the top
The statistics that illustrate the realities for black college basketball coaches are most no- ticeable at the top levels of the sport.
Across all of Division I men's basketball (353 schools), 29.2 percent of head coaches are black. It's a much higher percentage than it is in the major conferences, but when coaches at black colleges and universities (HBCUs) are removed from the equation, that number falls to 24.1 percent.
After an offseason in which four black head coaches were fired in the six major conferences, the Pac-12 doesn't have a single black coach. When Michigan tapped former standout Juwan Howard as its new coach in May, he became the first black head coach hired by a Big Ten program since 2007.