Public hearings slated on 4 RPS rezoning plans
Rezoning plans for Richmond Public Schools are now in the city School Board's court.
The Richmond Public Schools Rezoning Advisory Committee approved four rezoning plans Nov. 8 that will impact the city's 24,000 public school students when a final plan is chosen and implemented in the fall of 2020.
The School Board is expected to approve one of the four plans, or a combination, in December to ensure that students are notified and everything is ready by next fall when three new school buildings, now under construction, will open.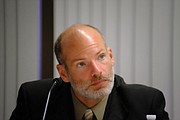 The School Board is holding three public hearings to get feed- back on the four options. The first will be held 6 p.m. Monday, Nov. 18, at Ginter Park Elementary School, 3817 Chamberlayne Ave.; 6:30 p.m. Monday, Nov. 25, at Bellevue Elementary School, 2301 E. Grace St.; and 6:30 p.m. Monday, Dec. 2, at E.S.H. Greene Elementary School, 1745 Catalina Drive.
The Rezoning Advisory Committee, composed of two community members from the city's nine districts, also recommended combining schools with majority white and majority black student populations, which resulted in the most public feedback from more than 55 meetings in the last few months.
School Board member Jonathan Young, 4th District, was unhappy with the committee's proposals, saying the plans don't adequately address overcrowding in South Side schools or diversity.
"I am disappointed strategic plan goals have not been accomplished ... regarding RPS rezoning increasing diversity in RPS," Mr. Young said at Monday night's meeting.
About 75 percent of RPS students areAfrican- American, 12.8 percent are Hispanic, 9 percent are Caucasian and 1 percent are Asian.
"At Elkhardt-Thompson Middle School, there are significant changes. But at the elementary level, there is still overcrowding," Mr. Young said of the plans. "Although Southampton and J.B. Fisher (elementary schools) are under-enrolled, others are busting at the seams."
School Board chair Dawn C. Page, 8th District, expressed hope for more equity and diversity in the future.
"We have made every effort to engage our community. Now the process is in the board's hands," she said. "We must accommodate the growth in South Side, as well as build more schools with a strong infrastructure and a world-class environment so our students can be prepared and competitive."
The four plans, called W, X, Y and Z, are said to represent the desires of all of the district's community interest in moving forward with the rezoning process.
Plan X, with the most change, includes the most extensive pairing of elementary schools, including Cary and Fox, Carver and Mary Munford and Ginter Park, Holton and Barack Obama. Plan Z calls only for pairing Munford and Cary.
The cost for pairing schools is $617,500 to $842,500, officials said.
Plans W and Y do not include pairing, but are aimed at reducing overcrowding, primarily at the elementary level.
All four plans have the current Elkhardt-Thompson Middle School in South Side as the only school to be closed, with a new middle school to be opened in South Side on Hull Street Road on the former Elkhardt site.
There also would be potential relocation of about 500 el- ementary students to adjust for overcrowding or better balance in classroom space.
Ohio-based consultant Cropper GIS, which was paid $127,000 for its work, drafted rezoning options, which were adjusted by the rezoning committee into four plans plus recommendations.
The School Board is scheduled to vote on new zones at its meeting on Monday, Dec. 2.