VSU board extends president's contract to June 2024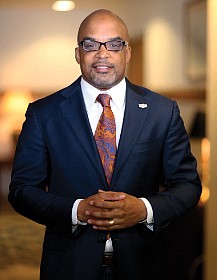 Dr. Makola M. Abdullah, the president of Virginia State University, has received a three-year contract extension.
The VSU Board of Visitors announced Monday that Dr. Abdullah's contract, which was set to expire in June 2021, has been extended to June 2024.
Huron F. Winstead, rector of the board, stated that the board is satisfied with Dr. Abdullah's performance.
Dr. Abdullah has led the school since February 2016, and the board provided the extension in a bid to keep him in the school's top post, Mr. Winstead stated.
During his tenure, VSU was re-accredited by the Southern Association of Colleges and Schools and gained state funding
approval to develop a $97 million academic building, Mr. Winsted noted.
He also noted that Dr. Abdullah has opened a welcome center to improve student recruitment and boosted services to the faculty with the opening of an enrichment academy.
VSU also increased research expenditures more than $25 million and also began issuing grants to faculty to increase university research, Mr. Winstead stated.
Dr. Abdullah issued a comment on the extension that included praise for the faculty, staff and administration for their support and commitment.
He added that VSU has adopted a five-year strategic plan, "Preeminence with Purpose," to guide the school and put it in a position to "to cultivate numerous opportunities of excellence for our students."