New VSU president shares vision, receives support at official introduction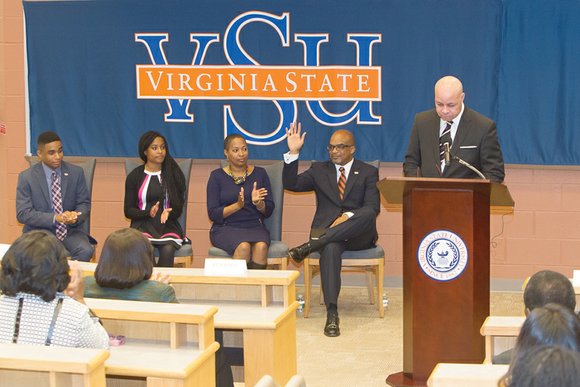 Brimming with confidence and eager to get started, the new president of Virginia State University is promising to first listen to students, faculty and staff and then roll out a "strategic vision that will be bold and purposefully challenging."
Among other things, Dr. Makola M. Abdullah wants VSU to be known for providing "a quality education," to invest in specialty academic areas that would make the university more attractive while continuing to be "an opportunity university" for students who might not be admitted elsewhere.

"We have an incredible history," he said in verbally wrapping himself in the VSU mantle. "We were founded as the state's first historically black college. We were founded to provide opportunities for students who did not normally have access to those opportunities."
He said he wants to put more emphasis on VSU's role as a land grant university with long ties to agricultural experimentation and to work collaboratively to better tell the university's story when he officially takes over Feb. 1 from interim President Pamela V. Hammond.
Dr. Abdullah offered a glimpse of his vision and plans in a 15-minute talk after VSU Rector Harry E. Black introduced the 46-year-old Chicago native last Friday as the school's 14th president and chief executive officer.
Dr. Abdullah was introduced in the auditorium of the school's Engineering and Technology Building.
Currently serving as provost and chief academic officer at Bethune-Cookman University in Daytona Beach, Fla., Dr. Abdullah said he would bring "a commitment to high standards of excellence, excellence that is quintessential to success in life and work."
Dr. Abdullah also brings to VSU an engineering background, more than 20 years of experience as a professor and administrator, a strong belief in historically black schools and, equally notable, a different faith perspective.
He will be the first Muslim to lead VSU, and possibly the first to lead any state-supported school of higher education in Virginia.
While Dr. Abdullah said he no longer is a practicing Muslim, he said he expects his faith "to inform, but not define" his work for the school.
At the very least, his selection sends a message that VSU is to be a beacon of tolerance at a time when some people across the nation have sought to label Muslins as terrorists and national security threats who should be blocked from entering the United States.
Dr. Abdullah has been awarded a 5½-year contract that will run through June 30, 2021. His starting salary will be $335,000, similar to the starting pay of his predecessor, Dr. Keith T. Miller, who served five years as president before stepping down under fire in December 2014.
Dr. Miller is to join the faculty in January 2017 following a year's sabbatical at the university's expense. He will be among the highest paid faculty at VSU.
Dr. Abdullah also will receive a $3,000 monthly housing allowance and a $1,000 monthly car allowance, among other benefits.
Faculty and students who attended last week's announcement expressed confidence that Dr. Abdullah would provide the energy, vision and commitment VSU needs to meet its enrollment and financial challenges.