VSU knocked out of bid for NCAA football playoffs
Fred Jeter | 11/22/2019, 6 a.m.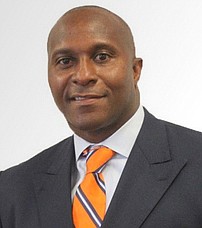 You win some. You lose some. And sometimes you just scratch your head.
Virginia State University hoped it had made the field for the NCAA Division II Region 2 football playoffs. But Coach Reggie Barlow's Trojans never saw Miles College coming.
When the seven-school regional playoff field was announced Sunday evening by the NCAA Selection Committee, Miles College, an HBCU in Fairfield, Ala., was in and VSU was out.
Miles College, seeded seventh, will play at No. 2 Lenoir-Rhyne University on Saturday, Nov. 23, in Hickory, N.C.
The Trojans now will pack their gear for the winter.
VSU entered the weekend 8-2 overall — but 8-1 against Division II opponents — and ranked seventh.
Miles College, finishing 9-2 with a win over Albany State University, an HBCU in Georgia, in the Southern Intercollegiate Athletic Conference championship game, had not previously appeared in the Top 10.
The SIAC champion has no automatic bid to the NCAA Division II playoffs.
A little known rule called "earned access" may have sealed VSU's fate. The rule enables a conference champion — in this case, Miles College — to make the playoffs as the seventh seed if it rises to No. 9 in the polls. Miles rose to No. 9 with its win over Albany State.
VSU had been seventh for several weeks.
The Trojans won eight of its last nine outings, including a thrilling 27- 24 overtime victory over then ninth-ranked Virginia Union University in the season's final game.
The CIAA wasn't totally shut out of the NCAA playoffs, however. Bowie State University, which defeated Fayetteville State University 23-7 last Saturday for the CIAA championship title, is seeded No. 3 in the region and will play host to No. 6 Carson-Newman University of Tennessee on Saturday, Nov. 23. This is Bowie State's second consecutive CIAA football title.
VSU has been to the NCAA playoffs twice, in 2014 under former Coach Latrell Scott and 2017 under Coach Barlow.