Funeral programs helping to connect African-American families to roots
James Scott Baron/The Free Lance-Star | 11/27/2019, 6 p.m.
SPOTSYLVANIA
Volunteers across the state are combing through a large collection of old African-American funeral programs to help families connect with distant relatives of the past.
"It amazes me how many of these (funeral) programs include the mother's maiden name, places they've lived and other details, giving us a lead to find their relatives in previous records," said Helen Smith, mission lead coordinator of the FamilySearch Virginia Remote Operations Center in Stafford County.
"African-American Funeral Programs, 1920-Present" is the latest collection of records being uploaded by FamilySearch, a global website operated by the Church of Jesus Christ of Latter-day Saints, headquartered in Salt Lake City. The church's Remote Operations Center is at 20 Boscobel Road in Fredericksburg.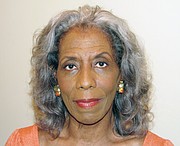 Unlike death certificates, funeral programs can provide critical information about a person's relationships, military service, hobbies and community involvement. By manually extracting and uploading that information into the FamilySearch genealogy database, doors are opened for people to connect with distant relatives they never knew existed.
The genesis of the project began about 12 years ago in Tappahannock, when Bessida White of the Middle Peninsula African-American Genealogical and Historical Society worked with FamilySearch representatives to help compile Freedmen's Bureau records for the Black History Museum and Cultural Center of Virginia in Richmond.
The Freedmen's Bureau, established by Congress in 1865, provided clothing, food, fuel and temporary shelter to millions of former enslaved people and children following the Civil War.
While working on the project, Ms. White offered copies of funeral programs to FamilySearch representatives as a possible source of family information that she thought might be useful to the African-American community.
"They were just fascinated," Ms. White said. "They said, 'That's important stuff. We had no idea.'"
In 2009, Ms. White led the effort to collect funeral programs in the state, bringing in 10,600 programs in just five weeks. In 2016, her organization helped collect another 8,000 funeral programs.
FamilySearch volunteers were soon at work, manually entering names, dates and other vital information into the vast genealogy database.
So far, volunteers have scanned more than 10,000 African-American funeral programs for the project. And the work continues.
"When it's over, it'll be about 24,000 records total, but it's hard to say because one funeral program might have multiple layers of information," Ms. Smith said.
Nearly 20 FamilySearch volunteers throughout Virginia do the majority of uploading work from their homes.
Casandra Helzer, who is the mission lead of the Virtual Remote Operation Center, spends between eight to 10 hours each week at her house, connecting names from the funeral programs to names in the FamilySearch database.
Ms. Helzer said one of the initial challenges she faced at the onset of the project was duplicate records. She said as more names have been added to the database, the process has become easier.
"When we first started, it was hard because we didn't know if they were in the system or not," Ms. Helzer said. "The more names we added, and the more we got to learn about these wonderful people, the easier it's been to go forward with the work."