Hearing on Coliseum referendum petitions still up in the air
Richmond Circuit Court Chief Judge Joi Jeter Taylor so far has not set a new hearing to consider whether city Voter Registrar Kirk Showalter wrongly threw out more than 2,000 petition signatures and keeping a nonbinding advisory referendum on the Richmond Coliseum replacement project off the Nov. 5 ballot.
Paul Goldman, who spearheaded the referendum drive that collected nearly 15,000 signatures, said Wednesday that he sent two emails to Judge Taylor this week seeking a hearing on motions he filed before Labor Day contesting the registrar's finding that the referendum petition drive fell 400 signatures short.
"But I have yet to receive a response" from Judge Taylor, Mr. Goldman said.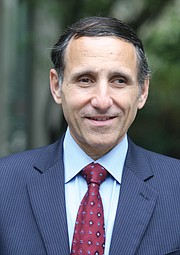 A political strategist and former chairman of the state Democratic Party, Mr. Goldman said that he referenced in his emails the short time remaining before the looming ballot preparation deadline for the referendum question to be settled.
Ms. Showalter declined to comment outside of court on any matters related to Mr. Goldman's legal actions.
At the first hearing on Aug. 15, Judge Taylor accepted Ms. Showalter's report showing 9,941 valid petition signatures, or 400 shy of the 10,341 required to put the referendum on the ballot.
The judge gave Mr. Goldman, who is serving as his own attorney in this case, until Aug. 30 to review the signatures that were rejected and note objections.
Mr. Goldman sent Judge Taylor a motion to compel Ms. Showalter to begin reviewing his findings ahead of the deadline. He then submitted his findings to the judge on the Aug. 30 deadline, listing 2,079 signatures he argued that were wrongly dismissed.

Among them were the signatures of radio talk show host Gary Flowers and prominent attorney Thomas Wolf and his wife, former School Board member Carol Wolf, and others whose names are on the voter rolls but were listed as "cannot identify."
Arguing that Ms. Showalter is flouting state law and violating the constitutional right of voters to petition their government, Mr. Goldman alleged that Ms. Showalter falsely listed some signatures as duplicates when they were not.
In addition, he noted that Ms. Showalter threw out the signatures of people who are clearly listed on the voter rolls, but whose address is now different than the one on the voter rolls.
Mr. Goldman said Wednesday that Ms. Showalter is continuing a practice that was rejected seven years ago in a similar Richmond Circuit Court case. That case involved Michael Ryan, an independent mayoral candidate, who alleged that Ms. Showalter wrongly rejected petition signatures that would have allowed him to be on the ballot.
In that 2012 case, Judge Melvin R. Hughes rejected Ms. Showalter's interpretation of election law and ordered her to count the signatures she had rejected of voters who had signed Mr. Ryan's petitions but included an address different than the one on the voting rolls. Judge Hughes also ordered her to update the voting rolls to reflect the new addresses.
Mr. Goldman, who also was involved in that case, said that the current case "is more clear cut."