2 church-sponsored festivals set for Sept. 20, 21 in Church Hill
9/13/2019, 6 a.m.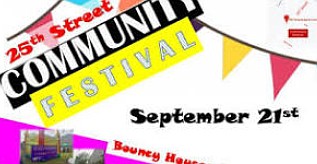 Back-to-back festivals will be held on church grounds in Church Hill next weekend.
The Community Fest 2019 at Faith Community Baptist Church, 1903 Cool Lane, which is open to everyone with out charge, will take place 5 to 10 p.m. Friday, Sept. 20.
This is the second year for the festival that will include live music, a farmer's market offering vegetables from the garden on the church grounds and other family-friendly activities.
Details: (804) 649-7225.
On Saturday, Sept. 21, the Church Hill Community Festival will return for its second year to the 800 block of North 25th Street.
Staged by Mt. Sinai and Fourth Baptist churches, the event is to be a family-friendly block party, it has been announced.
Live music and spiritual song and dance will be featured, along with free food and distribution of gently used clothing on the block where Mt. Sinai is located.
Outreach units of the of the city fire and police departments also will be on hand, along with vendors and representatives of city services, nonprofit groups and other community partners, including Virginia Commonwealth University, organizers stated.
Details: (804) 644-1013 or (804) 788-1977.