Scoring his 1,000th point, Huguenot's Jordan Parham gets a Gatorade bath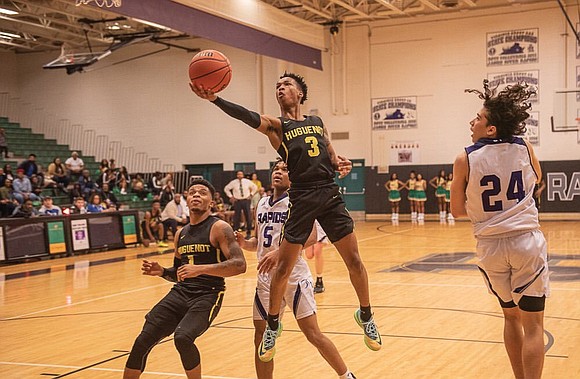 On special occasions, it can be OK for an athlete to take a shower even before getting to the locker room.
At least that was the case for Huguenot High School's Jordan Parham on Feb. 7, Senior Night.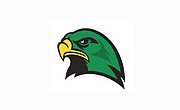 In dramatic fashion, Parham swished a free throw near the end of the team's victory over Chesterfield County's James River High School to reach the coveted 1,000-point milestone in his home finale.
Soon after, he was rewarded with a chilly Gatorade bath, courtesy of his jubilant teammates.
"No, I didn't get to the locker room. It was right on the court," Parham said of the drenching, trying to hold back a laugh.
"I'd definitely say that was the memory, the highlight, of my career."
A long, entertaining highlight reel could be made of Parham's four seasons — three on the varsity squad — for the Forest Hill Avenue school.
Splitting time between point guard and shooting guard, the 5-foot-11, 160-pound Parham averaged 19.5 points per game for the 18-6 Falcons, who reached the 4A region finals.
The talent didn't go unnoticed. Parham was named to the Virginia High School League All-State Team in a vote of rival coaches.
"Jordan got his points despite other teams keying on him," said Huguenot Coach Ksaan Brown. "He just kept getting better."
It wasn't like Parham was a surprise package. He averaged 18 points and made second-team All-State as a junior. As a preco- cious sophomore, he cracked Coach Brown's first five.
Parham did much of his damage from long range. He was 66-for-181 beyond the arc for 36 percent.
No one-trick pony, he added 73 rebounds, 56 steals and 78 assists.
"I don't want to be classified as just a shooter," Parham said. "I like to feel I can score on all three levels — from deep, NBA range, also mid-range and taking it to the basket."
The son of Wallace and Trena Parham will take his all-around skills to Lynchburg College in the fall, where he will play for the Hornets of the Old Dominion Athletic Conference.
He received some recruiting interest from such Division I programs as the University of Richmond, Old Dominion University and Virginia Military Institute, but felt Lynchburg College was the most comfortable fit.
"I wanted to go where I could really play and make an impact The Lynchburg College coach is Hilliary Scott, a former All-American performer at Roanoke College.
Parham sparkles in the classroom just as he does on the hardwood. He attended Richmond Community High School for the academically gifted. Because Richmond Community High has no athletics, Parham was permitted to play for his neighborhood school, Huguenot High.
Parham practically grew up on or near a basketball court. His father, a former Maggie Walker High School player, is a veteran facilities director for the Richmond Department of Parks, Recreation and Community Facilities.
"I was always around it," Parham said.
His first organized team was at Bellemeade Recreation Center, where his father worked.
The youngest of six children, Parham dabbled in football but began to focus on hoops in ninth grade.
He wears the No. 3 jersey in part to honor one of his favorite players, NBA star Chris Paul.
Looking ahead to the next level, Parham said he needs "to work on my handle, my defense, and put on some weight."
Now back to that 1,000th point.
It was a two-shot foul attempt, so he had a chance for No. 1,001.
"But I missed it," he said with a laugh.
The Gatorade dumpers didn't miss, however.