Long way from Cameroon to NBA playoffs for Pascal Siakam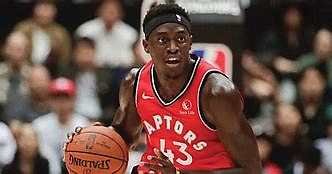 Pascal Siakam of the Toronto Raptors is doing his best Kawhi Leonard impression in this year's NBA playoffs.
The 2020 team, minus Leonard, is looking much like the 2019 model.
If Toronto is to repeat as NBA champion, Siakam, aka "Spicy P," must continue sprinkling flavor into the Canadians' attack.
The Raptors were the NBA's best team at the end of the 2019 playoffs and, despite the free agent loss of four-time All-Star Leonard to the Los Angeles Clippers, the Raptors are arguably the top squad to date as this year's playoffs roll forward.
While the top seeded Milwaukee Bucks, the Clippers and the Los Angeles Lakers stumbled in early games, the Raptors routed the Brooklyn Nets 4-0 in their first round series at the ESPN Wide World of Sports Complex near Orlando, known as "The Bubble."
The 6-foot-9 Siakam, who has a 7-foot-3 wing-span, is often the ring leader on a roster including other such standouts as Fred VanVleet, Kyle Lowry, Serge Ibaka and Norman Powell.
To start this season, Raptors Coach Nick Nurse asked if someone could step up to become a superstar. Siakam must have raised his hand. During the regular season, the native of Cameroon averaged 23 points, 3.5 rebounds and 2.3 assists.
Against Brooklyn, Siakam averaged 21 points, 7.7 boards and five assists—figures even the great Leonard would be proud of.
Wearing his signature red headband, Siakam had 20 points, six rebounds and 10 assists in the Sunday night clincher.
Siakam also is regarded among the league's top defensive players with the size and length to defend inside and quickness to cover smaller players.
Siakam came into his own a year ago, earning the NBA Most Improved Player award.
This season, he was selected an NBA All- Star.
It has been a long journey to NBA stardom from his birthplace of Douala, Cameroon. Growing up Catholic, he had notions of becoming a priest and spent years 11 to 15 at St. Andrew's Seminary in Bafia.
Following a change of heart, he moved to Lewisville, Texas, where he finished high school and emerged as an elite hoops prospect at God's Academy. From Texas, the winding trail led him to New Mexico State University.
Having fully adjusted to American basketball, Siakam was Western Athletic Conference Rookie of the Year as a college freshman and Player of the Year as a sophomore.
In 2015, the Raptors drafted him in the first round with the 17th overall pick. After a brief stint with Toronto's G-League affiliate in Ontario, he joined the Raptors late in the 2016-17 campaign.
Siakam is a familiar name in college basketball. Three of his brothers played for NCAA Division I programs.
Boris Siakam suited up at Western Kentucky University, Christian Siakam at Vanderbilt University and James Siakam at Indiana University-Purdue University Indianapolis, or IUPUI.
For now, the focus is on Pascal as he hopes to propel Toronto to a second straight NBA title, this time without 2019 NBA Finals MVP Leonard.
To derail their next opponent, the Boston Celtics, and then likely the No. 1 seed Milwaukee Bucks in the NBA Eastern finals, the Raptors will need to be cooking on all burners. "Spicy P" will gladly lend the seasoning.