Thomas 'Tiny' Lister, an athlete who rose to fame as a bully on the silver screen, dies at 62
12/24/2020, 6 p.m.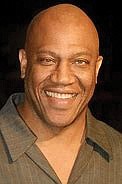 Thomas "Tiny" Lister, a track and field champion, professional wrestler and actor, died Thursday, Dec. 10, 2020, at his home in Marina del Ray, Calif.
The cause of death was listed as "natural causes," but Mr. Lister had been diagnosed earlier this year with COVID-19.
He was 62.
Mr. Lister, who was blind in his right eye, was a mountain of a man at 6-foot-5 and 300 pounds and he put that brawn to good use as a student- athlete at California State University at Los Angeles.
In 1982, Mr. Lister won the NCAA Division II shot put title with a heave of 61 feet, 8 inches.
On the WWF and WCW wres- tling circuits, he was known as "Zeus" and "Z-Gangsta."
He also appeared in dozens of movies, most notably as the neighborhood bully "Deebo" in the series of "Friday" films.
His other films included "The Fifth Element," "The Dark Knight," "No Holds Barred," "Universal Soldier" and
"Jackie Brown."
In "Jackie Brown," he played the role of bail agent Winston who "finds people who don't want to be found."
Mr. Lister was a close friend of entertainer Ice Cube, who he starred with in "Friday" and "Next Friday."
Ice Cube paid this tribute to Mr. Lister on Twitter:
"RIP Tiny 'Deebo' Lister. America's favorite bully was a born entertainer who would pop into character at the drop of a hat terrifying people on and off camera. Followed by a big smile and laugh. Thank you for being a good dude at heart. I miss you already."