Obama Elementary School: New name, new spirit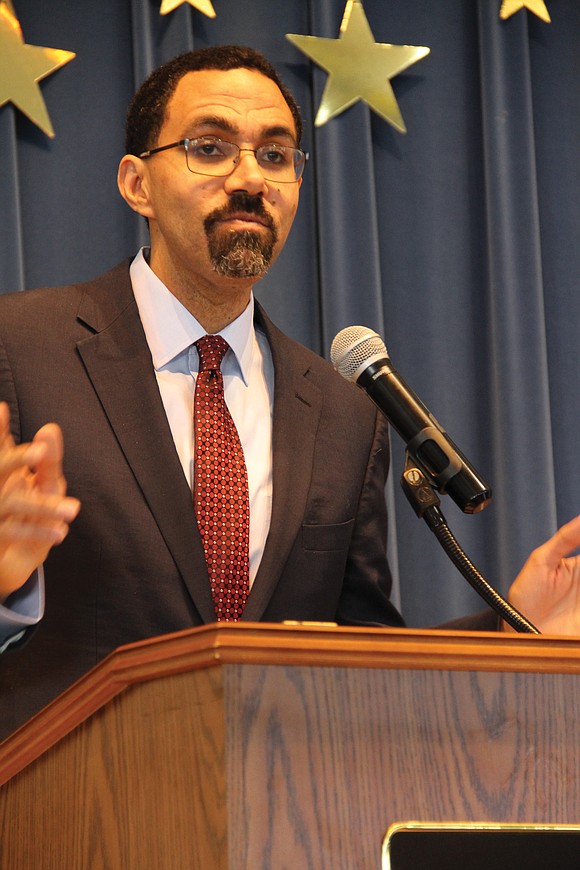 It was an Obama love fest last Friday as students, teachers, officials and special guests dedicated Barack Obama Elementary School, the North Side school built in 1922 and previously named for a Confederate general that was renamed in September 2018 to honor the nation's first African-American president.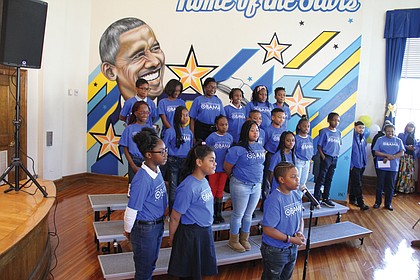 In a ceremony highlighted by guest speaker Dr. John B. King Jr., who served as President Obama's secretary of education, students showed their love, admiration and respect for the former president through song, prose and praise for his accomplishments and continuing love of education.
The sea of students wearing blue Obama Elementary School T-shirts listened intently as the school choir sang, "O," a song about President Obama, and students Roland Angaroo and William Stone III recited, "Barack Obama, he's the man; the one that said, 'Yes we can!' "
The students' excitement eclipsed the bright morning sunlight spilling in from the 12-foot windows and illuminating the auditorium's 10-foot mural of President Obama created by Richmond artist Hamilton Glass.
The youngsters' energy and love for the school's namesake ignited the audience that included Richmond Schools Superintendent Jason Kamras; Mayor Levar M. Stoney; School Board Chair Linda B. Owen; board Vice Chair Cheryl L. Burke, board member Kenya Gibson, 3rd District; and Dr. James F. Lane, state superintendent of public instruction. They applauded and gave the students a standing ovation.
"I am so pleased to join Richmond students, educators, families and community members in celebrating the renaming of this school in honor of America's first black president," said Dr. King, now president and chief operating officer of The Education Trust, a national nonprofit working to close opportunity gaps disproportionately affecting students of color and those from low-income families.
"I am so encouraged that students of color will be able to see themselves and their potential for greatness reflected whenever they tell people where they attend school in Richmond," he said. "President Obama is very committed to education. For him and Mrs. Obama, education continues to be something that they work on. They're always excited when students are excited about learning and school."
Dr. King, who grew up in New York, talked about how school was a safe haven for him when his mother, Adalinda King, a school guidance counselor, died when he was 8, and his father, John King Sr., a retired schoolteacher and administrator who had Alzheimer's, died when he was 12.
"The thing that saved me, the reason I became a teacher and rose to become U.S. secretary of education, is because I had amazing teachers," Dr. King told the attentive audience. "Teachers made school fun, interesting, safe and a place where I could be a kid because I couldn't be a kid at home as I was taking care of my dad when he was really sick. I had to take care of our household."
Dr. King, who lived with family in Long Island after his father's death, went on to earn a bachelor's degree from Harvard University, a master's from Columbia University, a law degree from Yale University and a doctorate in educational administrative practice from Columbia. He taught school for several years and was a founder and co-director of a charter school in Boston and later managing director of an organization of nonprofit, charter public schools in Massachusetts, New York and New Jersey.