Bevy of scorers keeps VSU on top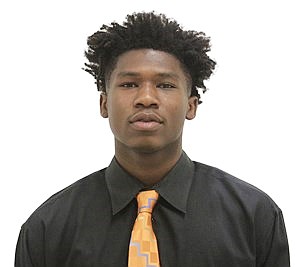 The Virginia State University basketball team keeps opponents guessing. They never know which Trojan will ruin their day.
Starting this week, six VSU Trojans were averaging between 12.1 and 7.4 points per game.
"We always like to have balance. That's part of our success," said Coach Lonnie Blow. "There's no one with big numbers — kind of like scoring by committee."
B.J. Fitzgerald, a 6-foot-5 transfer from Norfolk State University, leads the points parade, averaging 12.1 points per contest.
He's closely followed by Walter Wil- liams, 11.7 points; Andrew Corum, 11.3; Antwan Miles, 10.6; Armond Griebe, 10.5; Daniel Rahama, 7.8; and William Vedder, 7.4.
"Some nights, two or three will get you," Coach Blow said. "The next night, two or three more might get you."
The Trojans began the week 15-6 overall and 9-1 in the CIAA, two games up on Bowie State University and three up on Virginia Union University despite losing to the VUU Panthers in the Freedom Classic.
Since arriving at VSU, Coach Blow has never heard of a re-building season. He lost his top six starters from a season ago and hardly skipped a beat.
The team's leading scorer, Fitzgerald, isn't even a starter.
"We call him our 'sixth starter,' " Coach Blow said. "He gives us a lot of offense coming off the bench. He may not be a starter, but he gets starter minutes" at an average of 21.2 minutes per game.
Redshirt senior Walter Williams, who missed last season with a foot injury, has been the Trojans' on-the-floor leader.
The 6-foot-4 former Henrico High School All-State player is hitting 55 percent from the field (.471 beyond the arc) and 86 percent at the foul line.
"As much as we missed Walter last season, (the injury) might have been a blessing in disguise," Coach Blow said. "We won without him (VSU is the defending CIAA champion) and now he's back, almost like another assistant coach."
The Trojans are looking more and more like the top seed from the Northern Division at the CIAA Tournament Feb. 24 through 29 in Charlotte, N.C. The tournament champion receives an automatic bid to the NCAA Division II playoffs.
VSU also would stand a chance of getting an NCAA at-large berth should the team fall short in Charlotte.
After 20 games, Fitzgerald has been the leading scorer six times and Williams five times. Rahama and Corum were the leading scorer or tied for first four times. Miles has led on three occasions.
It was Corum's turn as lead scorer on Monday, scoring 21 in VSU's 70-68 win at Lincoln University.
To show how deep the Trojans are, top season scorer Fitzgerald failed to score.
VSU is right at the top where it counts more — the standings.