American players hold spotlight in Korean baseball

You'd never guess who's tearing up the Korean Baseball Organization, or KBO.
The South Korean league's unlikely home run leader turns out to be a switch-hitting outfielder from, of all places, Indianapolis.
As of July 2, 30-year-old Mel Rojas Jr. led the KBO with 17 homers. He was also second in RBI (45) and average (.382) for the team KT Wiz of Suwon.
The KBO has come into the U.S. focus this spring be- cause of the absence of Major League Baseball in America due to the COVID-19 pandemic. KBO games, albeit with empty bleachers, have been televised by ESPN. The games have been welcomed by U.S. fans starved for our "National Pastime."
Rojas, the son of former U.S. big-league pitcher Mel Rojas Sr., signed with the Wiz in 2017 after seven seasons in the American minor leagues. In 2012, he made several trips to The Diamond as a member of the Altoona Curve, the Pitts- burgh Pirates' farm club.
With the Wiz, Rojas set the franchise record of 43 homers in 2018 and won the KBO's Golden Glove Award in 2019.
The award is given annually to the best overall player at each position. His salary is reported at $1.5 million.
KBO teams are allowed three foreign players.
Two other players making noise this season are first baseman Jose Miguel Fernandez of the Doosan Bears (of Seoul) and centerfielder Aaron Altherr of NC Dinos (Changwon).
Cuba native Fernandez leads the KBO with a .396 mark, while Altherr, who grew up in Arizona, is pushing Rojas in power numbers with 13 homers and 44 RBI.
Foreigners in the South Korean league are relatively new. The first was Tyrone Woods in 1998.
As a rookie, Woods, a first baseman from Florida, set a Doosan franchise record of 42 home runs and became the first non-Korean to win MVP.
Other Americans to make a name across the Pacific are Eric Thames and Jerry Royster.
Thames, a 33-year-old Californian, was MVP of KBO in 2015 and is now back in the United States playing with the Washington Nationals.
Royster, who played in the U.S. big leagues from 1973 to 1988, managed the KBO Lotte Giants from 2007 to 2010.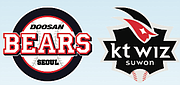 There is a current local connection with the KBO. Former Midlothian High School and University of Virginia pitcher Tyler Wilson is in his third season with the LG Twins of Seoul.
KBO teams face 144 game schedules, playing six days a week and taking every Monday off. Games end in ties after 12 innings. Stadiums range from about 16,000 to 25,000 in seating.
The league culminates the season with the KBO Korean Series, its equivalent of the World Series in the United States.