Washington Nationals looking for a repeat championship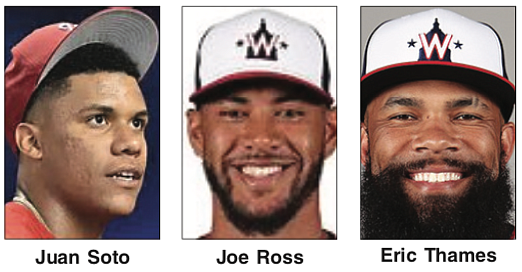 If the Washington Nationals are to repeat as World Series champion, the team will need help in replacing the power of departed All-Star Anthony Rendon, who is now with the Los Angeles Angels.
Newcomer Eric Thames might swing just the bat the Nats are looking for.
Acquired as an off-season free agent, the 33-year-old Thames is a proven home run slugger in two continents –— the United States and South Korea.
During the last three years with the Milwaukee Brewers, Thames blasted 72 homers, including 25 this past year.
Before that, from 2014 to 2016, the native Californian emerged as the top long-ball hitter in the Korean Baseball Organization. During a glitzy three-year stint with NC Dinos in Changwan, Thames swatted 124 homers, drove in 382 runs and was the 2015 MVP.
He drew applause in Korea in more ways than one. Appearing on the Korean TV musical show, "King of Mask Singers," he earned approval for his rendition of Stevie Wonder's "Isn't She Lovely" and a K-pop song, "Americano."
The bearded Thames swings left-handed and will likely alternate at first base at Nationals Stadium with right-hander Howie Kendrick. Thames can also alternate in left field.
Since 2018, the Nats have lost two of MLB's premier run producers—Bryce Harper to the Philadelphia Phillies and now Rendon to the Angels.
Emerging as a bona fide D.C. fence buster is Juan Soto, a 21-year-old Dominican outfielder who has perennial All-Star written all over him.
Soto, called to the majors at age 19, has a quirky pre-pitch routine called the "Soto Shuffle" and an impressive statistical résumé. The left-hander has 56 homers and 180 RBI in less than two seasons with the Nationals. Many feel he has more than adequately replaced Harper, the 2015 National League MVP, as the Nats' No. 1 attraction.
Another key for current Nats might be the improvement of starting pitcher Joe Ross, who figures to join a formidable rotation showcasing Max Scherzer, Stephen Strasburg and Patrick Corbin.
Ross, 27, has two go-to pitches with his sinker and slider and has averaged nearly a strikeout per inning during his career. His older brother, Tyson Ross, pitches for the San Francisco Giants.
The 6-foot-4 right-hander was 4-4 with the Nats last season and is 21-19, 4.29 ERA during the five previous seasons in Washington.
All said, the Nationals, like all teams, will be hard-pressed to duplicate their magical run in 2019. No team has repeated as World Series champ since the New York Yankees in 1998, 1999 and 2000. A different team—Washington, Boston, Houston, Chicago Cubs, Kansas City and San Francisco—has won each of the last six years.