L.A. Lakers looking to get back on top after long drought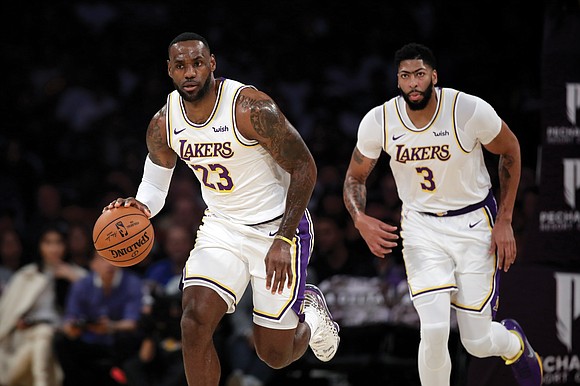 In recent years, the Los Angeles Lakers have turned from prince to frog and, now, back to prince.
The transformation is nearing completion, but there's more work to be done starting July 30 when NBA play resumes
in Orlando, Fla.
Among the most storied franchises in pro sports history, the Lakers went six straight seasons — 2014 to 2019 — without making the playoffs.
During that time adrift, the team posted a dismal 163-329 overall record.
This season, buoyed by the scintillating combo of LeBron James and Anthony Davis, the Lakers are 49-14 and likely to be the Western Division top seed for the playoffs.
The Lakers are looking for their 17th NBA title, a mark that would tie the Boston Celtics for the most in league annals. Also, the Lakers have reached the playoff finals 15 other times.
Under Coach Frank Vogel, here's how the Lakers have turned things around:
Feb. 21, 2017: Lakers owner Jeannie Buss names Earvin "Magic" Johnson as president of basketball operations.
July 1, 2018: The influential Johnson signs free agent and proven champion LeBron James to a four-year contract worth $154 million.
June 15, 2019: The Lakers acquire All-Star center Anthony Davis in a trade with the New Orleans Pelicans for players and draft picks.
The James-Davis combo ranks with the NBA's all-time best.
This season, the 6-foot-9 James averages 25.7 points, 9.8 rebounds and leads the NBA with 10.6 assists per night.
The 6-foot-10 Davis averages 26.7 points, 9.4 rebounds, 1.5 steals and 2.4 blocked shots.
There are numerous other chapters to this frog-to-prince drama. For example:
July 3, 2017: The Lakers sign 6-foot-8 forward Kyle Kuzma in a trade with the Brooklyn Nets. "Kuz" averages 12.5 points and 4.5 rebounds.
July 13, 2017: Los Angeles signs former Detroit Piston Kentavious Caldwell-Pope. The 6-foot-5 guard averages 9.5 points.
July 5, 2018: The Lakers acquire four-time All-Star Rajon Rondo. The point guard averages 78.1 points and five assists.
July 10, 2018: Two-time NBA champion JaVale McGee signs with the Lakers. The 7-foot McGee averages 6.8 points and 5.8 rebounds.
July 6, 2019: The Lakers sign 6-foot-6 forward Danny Green, a two-time NBA champion, to a two-year pact worth $30 million. In 25 minutes per game, Green averages 8.2 points, 3.4 boards and has hit 38 percent from beyond the arc.
Aug. 26, 2019: Veteran center Dwight Howard signs with the Lakers. The 6-foot-10, eight-time All Star averages 7.5 points and 7.4 rebounds, offering much added muscle up front.
The Lakers will be down one key man from now on. Starting guard Avery Bradley, who signed with Los Angeles in 2018, will not participate because of concerns about COVID-19. His son, Liam, has a history of respiratory illnesses.
These revived Lakers average 114.3 points per game while outscoring their opponents by an average of 7.4 points per game. Only the Milwaukee Bucks (53-12) have a better record.
The Lakers last won NBA titles in 2009 and 2010. Since then, six different teams have won the world's top prize in basketball.
For a franchise spoiled by excellence, a drought that long must seem like a horror movie made in nearby Hollywood.