Dr. Oliver W. 'Duke' Hill Jr., retired VSU professor, administrator and researcher, dies at 70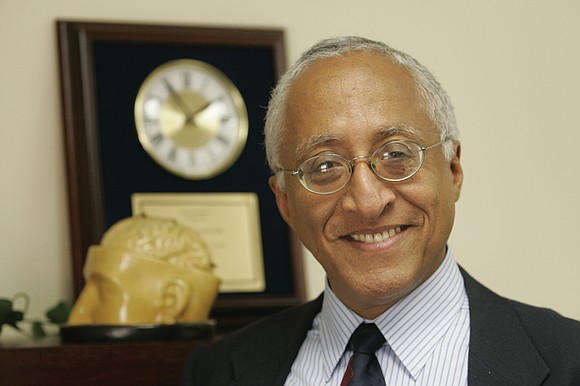 While his celebrated attorney father devoted his life to using the law to break down racial barriers, Dr. Oliver White Hill Jr. focused his attention on eliminating racial disparities in education.
Considered a thoughtful man and known for his mild man- ner, wry humor and positive outlook, Dr. Hill, called "Duke" or "Dukey" by friends and family, earned national attention for his research on school reform and on bias in testing during his nearly 40 years at Virginia State University.
Alarmed that math anxiety was leading too many African-American students to shy away from futures in science fields, the professor and longtime chairman of the VSU Department of Psychology sought to solve the problem.
Employing a mentoring approach, "he did lots of work on using meditation, reflection and mindfulness as a means of reducing student stress over tests and math," said Dr. Kimberly P. Boyd, a VSU psychology professor and colleague of Dr. Hill.
Dr. Hill also partnered with VSU mathematics professor Dr. Dawit Haile to receive a National Science Foundation grant to bring to the campus the Algebra Project, a creation of educator and civil rights activist Robert P. "Bob" Moses to increase math learning among African-Americans.
They tested the project in Petersburg and used it in seeking to improve public school math instruction by working with middle and high school teachers. The ultimate goal was increased African- American student interest in the STEM fields of science, technology, engineering and math. The project has since spread to other cities, including Atlanta.
As the university put it in a statement, Dr. Hill "transformed lives. He dedicated a great deal of his research and his passion to creating a pathway to educational opportunities." VSU also credited him with being "instrumental in creating the university's first doctoral program," a Ph.D. in health psychology.
He retired last year from VSU after briefly serving as interim dean of the College of Natural and Health Sciences.
Dr. Hill's contributions are being remembered following his death Tuesday, July 7, 2020. Relatives said he died from cardiac arrest. He was 70.
A memorial service will be held 11 a.m. Saturday, July 18, at Scott's Funeral Chapel, 116 E. Brookland Park Blvd, where the service will be livestreamed at www.scottsfuneralhome.com.
Dr. Hill lived long enough to witness the beginning of the removal of the Confederate statues, symbols of racial hatred in the city where he was born and against which he and his family had fought.
Dr. Hill was the son of the late noted civil rights attorney Oliver W. Hill Sr., a member of the legal team that helped win the landmark 1954 U.S. Supreme Court decision in the Brown v. Board of Education case, and the late Richmond educator Beresenia Hill.
Growing up in Richmond, Dr. Hill talked about the crosses that were burned on the family's lawn in North Side and the hate mail his father received from foes of integration as he and attorneys in his law firm battled to enforce the Brown decision declaring government-enforced segregation of classrooms unconstitutional.