No mask, no social distancing earns Gov. Northam criticism
George Copeland Jr. | 5/28/2020, 6 p.m.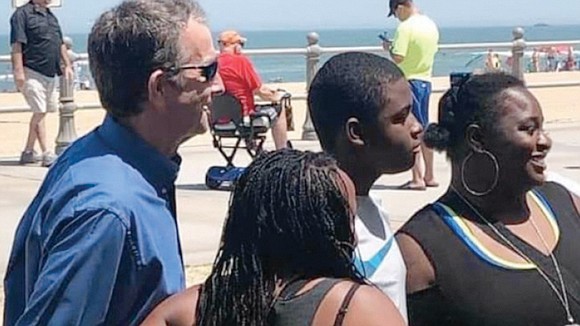 Gov. Ralph S. Northam apologized Tuesday for not following his administration's own COVID-19 safety guidelines during his Memorial Day weekend visit to Virginia Beach where he posed for photos with people along the oceanfront without a face mask or social distancing.
He explained during a media briefing in Richmond that he left his face mask in his vehicle, an oversight that he recognized reflects poorly on him at this time of "new habits and routines," particularly as new state requirements for facial coverings in public buildings and other areas go into effect on Friday.
The governor, a physician, regularly has stressed the importance of wearing face coverings and keeping a 6-foot distance from others in public to stop the spread of COVID-19. His continual refrain made his actions during the weekend at the oceanfront stand out even more, as he posed with beachgoers for photographs.
The governor said Tuesday that the photos were the unplanned result of "well-wishers" he encountered during his planned visit to the oceanfront to meet with Virginia Beach Mayor Bobby Dyer, thank first responders and assess how that city's beach reopening plan, launched Friday, May 22, was going.
Still, Gov. Northam was roundly criticized on social media for not practicing what he has preached.
"Physician, heal thyself," tweeted Delegate Todd Gilbert, a Page County Republican and minority leader in the House of Delegates.
"If it's safe for Ralph Northam to go to the beach and not wear a mask and not practice good social distancing, why is it unsafe for thousands of Virginia small business owners to open their doors?" Jack Wilson, chairman of the Republican Party of Virginia, asked in a blistering statement issued Tuesday.
The governor's " 'do as I say, not as I do' attitude is a slap in the face to thousands of out-of-work Virginians," Mr. Wilson stated. "If he can choose to ignore his own social distancing and mask recommendations, then Virginia can safely go back to work. It's time to reopen Virginia."
Gov. Northam acknowledged the criticism on Tuesday.
"I take full responsibility for that," he said. "People held me accountable and I appreciate that. In the future, when I'm out in the public, I will be better prepared."
Following up his apology, Gov. Northam touted the Virginia Beach reopening as a success that he believes could be a model for the country. He said he is working with Norfolk, Hampton and other waterfront localities to reopen their beaches this weekend if they have developed a plan similar to the one used by Virginia Beach.
Virginia has more than 39,300 cases of the coronavirus, and more than 1,200 deaths, as of Tuesday, according to state health department data.
The Associated Press contributed to this article.