12-year-old activist, minister Elijah Lee is finalist for Kid of the Year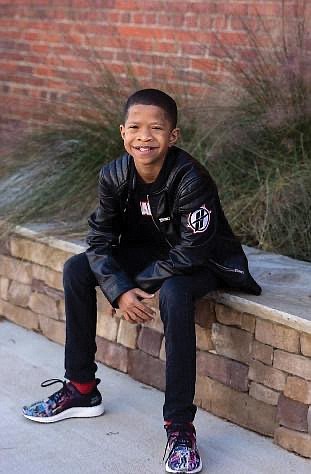 At the tender age of 12, Elijah Lee has grown an extensive résumé as a spiritual leader, nationally known child advocate and speaker. Add to that finalist for the first-ever Kid of the Year Award.
On Nov. 2, Nickelodeon and TIME magazine announced their inaugural Kid of the Year honor. Twenty finalists were selected following a nationwide search in which more than 5,000 inspirational youngsters were nominated.
Elijah, a seventh-grader at Swift Creek Middle School in Chesterfield, is among the 20 finalists recognized as extraordinary young leaders who are making a positive impact in their communities.
The top five honorees will be featured on a TV special hosted by Trevor Noah 8 p.m. Saturday, Dec. 5. The show will be simulcast on Nickelodeon, CBS, TeenNick and Nicktoons, and will feature celebrity guests, including Olympic gymnast Simone Biles.
The youngster ultimately recognized as Kid of the Year will be featured on a cover of TIME Magazine with a companion story in TIME for Kids.
"It is so hard to put into words what an honor this really is," Elijah said in a Free Press interview this week. "I was bouncing off the walls and was so excited to receive such a national honor, as well as to be considered and looked at like this. The honor gives power to my work."
The pre-teen social justice activist and ordained minister is devoted to combating child abuse and helping those currently dealing with it. He has organized his own annual child abuse awareness march and served as a speaker on the issue at conferences.
Born in the small town of Roanoke Rapids, N.C., Elijah calls himself a "bi-racial male."
"My mother is white and my father, Marine Sgt. Marvin Lee, who passed away when I was 3-years-old, was African- American," he said.
His mother, Jessica Lee, moved him and his 11-year-old sister, Trinity, to Virginia on July 1.
He said he has taken this activist path because, at a very early age, he learned how children sometimes are looked at – objectified or as a fixture in a family's house—or are mentally or sexually abused.
He said he learned when he was in the first grade that one of his female classmates was being hit by a family member. After having an uncomfortable conversation with his mother about child abuse, Elijah assisted his classmate in getting help.
However, that incident placed a lingering burden on his heart, he said, knowing he was blessed with a loving mother, sister, church and friends protecting him. These blessings ultimately led to him organizing his first annual child abuse awareness march at age 10, in Roanoke Rapids. The march was attended by more than 200 people.
Two more marches followed in consecutive years, with the last march attracting more than 450 residents.
His fourth march will be held on Zoom because of the pandemic. It is scheduled for 1 to 2 p.m. March 6, in Chesterfield. Gov. Ralph S. Northam will be a virtual speaker, he said.
In honor of Elijah's work, the county of Halifax, N.C., and the city of Roanoke Rapids have named the first Saturday in March Child Abuse Awareness Day.
His community involvement, inspired by his growing knowledge of Angela Davis, Dr. Martin Luther King Jr. and the late Congressman John Lewis of Georgia, continued in Roanoke Rapids, with Elijah
raising money to develop two pediatric safe rooms at a local hospital there. Rooms will be converted into a safe, welcoming space for children who have experienced trauma and abuse.
In his spiritual life, Elijah was ordained as a minister at age 10 by Bishop Nathaniel Dupree at the Church Of The Holy City in Emporia.
He believes his spiritual work is necessary.
"My job on this Earth is to continue to fight for our young people — empower and encourage them, to have their voices heard and stand up for what is right," he strongly said.
Looking toward the future, Elijah said he is interested in politics. "I want to be a congressman and address racism, systemic racism within our court and legislative systems and public education, especially for low-income children."
Being recognized as a finalist for Kid of the Year is just the latest honor for the young man. His years of activism led him to be honored with the designation of Marvel Hero on the Marvel Hero Project streaming on Disney Plus, episode 2, "Incredible Elijah."
He also was featured in PEOPLE Magazine for his work with the Marvel Hero Project, and is featured in "Kids Speak Out About Violence," a book published by Rourke Educational Media.