Hampton U. enters basketball season with 'no expectations' from experts
Fred Jeter | 11/19/2020, 6 p.m.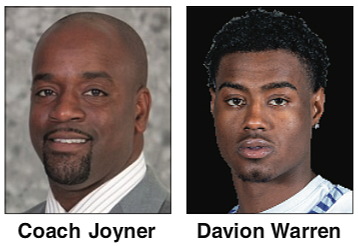 Hampton University's basketball Pirates must feel like someone ripped off their treasure chest.
Coach Ed "Buck" Joyner is facing one of the nation's more challenging rebuilding jobs after losing 74 percent of last season's point producers on the team.
HU Sports publicist James Heath reports that the Pirates lost the seventh highest percentage of points (73.9) in NCAA Division I behind Rider, Radford, Auburn, Arkansas, Georiga Southern and Seattle.
Much of that resulted from the loss of two players— Jermaine Marrow, who graduated, and Ben Stanley, who transferred to Xavier University of Cincinnati.
Marrow averaged 24.8 points per game a year ago, followed by Stanley, from Chesterfield's Millwood School, at 22 points per game. Together, they accounted for 1,057 of 2,025 shots taken.
Hampton went 15-19 overall last season, but shifted into the next gear at the Big South Tournament and advanced to the finals before losing at Winthrop.
"This is a transition season. We've got a new team, a different group," Coach Joyner said at the virtual Big South Media Day.
In preseason prognostications, the Pirates were picked to finish ninth, with no HU players making the preseason All-Big South.
"This is unusual for us," Coach Joyner said. "Normally our teams have been in the top half of predictions, even the top half of the top half.
"But we like having no expectations," the coach continued. "We'll try and come from the back and surprise people."
It's not like the pantry is completely empty.
The lone returning starter is Davion Warren, who averaged 10 points and six rebounds a year ago.
Likely to help are two transfers from nearby Old Dominion University, 6-foot-5 Marquis Godwin and 7-foot Dajour Dickens.
A touted newcomer is 6-foot shooting guard Elijah Seward from John Marshall High School, the State 2A state champions.
The Big South is going with a unique scheduling concept as a result of the pandemic. All conference games will be on back-to-back nights.
Hampton will open Dec. 21-22 with a pair of games at Charleston Southern University in South Carolina. The first Big South home games are Dec. 30-31 against Gardner-Webb University in North Carolina.
The Pirates' non-conference slate has not been announced. "We'll look at the non-conference games like preseason," said Coach Joyner. "The good thing about basketball is that you could be 0-29 going to the tournament. But if you get hot, you could be 4-29 and headed to the NCAAs."
Hampton has a history of advancing to postseason play. Since 2001, the Pirates have made the NCAAs six times, the NIT once, the CBI twice and the CIT once.
The Pirates boast one of the NCAA Tournament's most historic upsets. In 2001, 15th seeded Hampton University stunned No. 2 Iowa State University 58-57.