VCU basketball opens Nov. 26 with non-conference games in Knoxville
Fred Jeter | 11/25/2020, 6 p.m.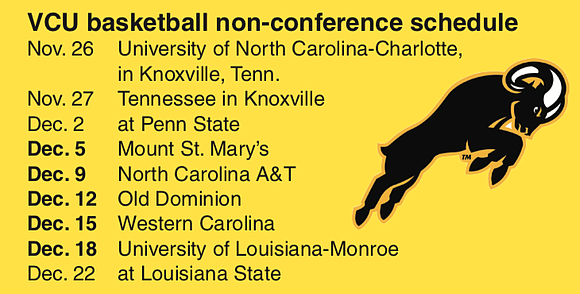 Virginia Commonwealth University's non-conference basketball schedule will start and end with trips to Southeastern Conference schools.
In his fourth season, Rams Coach Mike Rhoades and the team will travel to Knoxville, Tenn., to play the University of North Carolina -Charlotte 49ers on Thursday, Nov. 26, followed by a game against the host University of Tennessee Volunteers on Friday, Nov. 27.
Charlotte is a member of Conference USA while Tennessee competes in the SEC.
The Rams' non-conference slate will end Dec. 22 with a game at Louisiana State University in Baton Rouge. The LSU Tigers, part of the SEC, are coached by former VCU Coach Will Wade.
Charlotte was 16-13 last season under Coach Ron Sanchez, who served as an assistant at the University of Virginia under Coach Tony Bennett from 2009 to 2018.
Tennessee was 17-14 last season under Coach Rick Barnes. The Vols defeated VCU 72-69 in a November 2019 tournament at Niceville, Fla.
Coach Barnes was fired by the University of Texas in 2015 to make way for the arrival of former VCU Coach Shaka Smart.
VCU will open Atlantic 10 Conference play Dec. 30 against St. Joseph's University in Philadelphia.