The 1964 St. Louis Cardinals team was bright with stars
The recent deaths of baseball Hall of Famers Lou Brock and Bob Gibson stirred memories of the 1964 St. Louis Cardinals team for which they so brilliantly played.
The 1964 Cardinals should be remembered for winning the National League pennant, the World Series and much more.
The team was rich with African-American players and also had an infielder from a tiny Caribbean island that later would become a huge exporter of baseball talent.
Let's start with first baseman Bill White. The native Floridian, now 86 and residing in Pennsylvania, enjoyed a standout playing career and an even more distinguished retirement.
As a player, White was an eight-time All Star and seven-time Gold Glove recipient.
He was early in his career in 1964. From 1989 to 1994, he served as president of the National League, becoming the first person of color in any sport to serve in such a high executive position.
White also was a trailblazing member of the media. He was the New York Yankees' radio play-by-play announcer from 1971 to 1987.
Then there was dazzling center fielder Curt Flood, perhaps the most influential player in terms of labor in baseball annals.
In 1969, Flood refused to accept a trade from St. Louis to Philadelphia and challenged baseball's long-standing "reserve clause," which locked a player into the same team for his entire career unless traded by the team. Flood's lawsuit, which would have given players freedom over their own destiny, was appealed all the way to the U.S. Supreme Court.
While Flood's efforts were not immediately successful, they created solidarity among players and eventually led to today's lucrative free-agent system.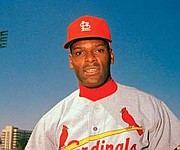 Flood died in 1997 at age 59. Cardinals manager Johnny Keane's ace right-handed pitcher in 1964 was intimidating Bob "Hoot" Gibson.
Mr. Gibson, who died Friday, Oct. 2, at age 86, was a nine-time All-Star who became so dominant that baseball was forced to change its rules.
In 1968, Mr. Gibson threw 13 shutouts and compiled a microscopic 1.12 earned run average.
To help the hitters, baseball lowered the pitcher's mound from 15 to 10 inches and reduced the height of the strike zone from armpits to jersey letters.
Mr. Gibson was the MVP of the 1964 and 1967 World Series championships and finished with a 251-174 record, 2.91 earned run average and 3,117 strikeouts.
The 1964 Cardinals' second baseman was Julian "Hoolie" Javier from San Francisco de Macoris in the Do- minican Republic.
Javier, now 84, was in the first trickle of Dominicans to reach the big leagues. Before long, that trickle became a wave. There were 110 Dominicans starting on major league rosters this season. Santo Domingo, the capital, has become the world's most productive city in churning out big leaguers, with 18 currently.
San Francisco de Macoris is the fourth most productive city after Houston, No. 2, and San Diego, No. 3.
On the 1964 Cardinals team, don't ever forget the "Running Redbird," Lou Brock, who retired as baseball's all-time leader for stolen bases.
Mr. Brock is among the few MLB players to have traveled the HBCU route to a big league contract. As a junior in 1959, Mr. Brock led Southern University in Baton Rouge, La., to the NAIA national championship.
Also that year, he became the first Black to be selected to the U.S. Pan American team.
Mr. Brock and Andre Dawson of Florida A&M University are only HBCU baseball alumni to reach the Baseball Hall of Fame. Larry Doby played basketball at Virginia Union University but did not play baseball for the Panthers.
The 1964 Cardinals also may have led the majors in laughs. The back-up catcher was Bob Uecker. "Uke" has become famous as a comedian, actor and broadcaster and has been the Milwaukee Brewers'radio play-by-play man since 1971.
While St. Louis enjoyed the perfect ending to a season — winning the World Series by beating the New York Yankees in seven games — the postscript ranks among the strangest ever.
For whatever reasons following the 1964 World Series, St. Louis Owner August "Gussie" Busch fired manager Keane and elevated Coach Red Schoendienst to manager. Soon after, the fired Keane was named manager of the year by The Sporting News.
Who knows? With all that talent, perhaps Busch felt the Cards should have beaten the Yankees in six or less.