Justice Ruth Bader Ginsburg remembered as an agent of change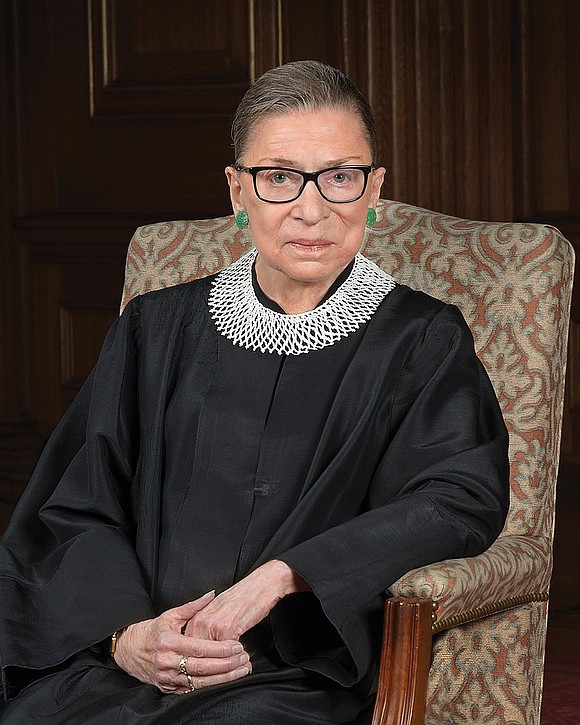 Jennifer Carroll Foy remembers the moment that U.S. Supreme Court Justice Ruth Bader Ginsburg changed her life.
Now a member of the Virginia General Assembly and a gubernatorial candidate, Delegate Carroll Foy, then 14 and a student at Petersburg High School, stated the moment came as she watched Justice Ginsburg deliver the landmark 1996 opinion eliminating the males-only admissions policy at the state-supported Virginia Military Institute in Lexington.
"I heard Justice Ginsburg's assertions that women are not inferior to men and that we can do all the things they can if given the opportunity," the Prince William County Democrat stated.
"In response, I stood up and said, 'Well, I'm going to VMI. I'm just as smart, just as strong, just as capable as any man in this room,' " Delegate Carroll Foy recalled.
She said she went through the rigors of the program like any male recruit and credits VMI "for making me stronger."
"VMI taught me grit, perseverance and how to be level headed and how to work alongside anyone to get the job done. And If I had graduated high school before 1996, my opportunities would not have been the same," she said.
To Delegate Carroll Foy, Justice Ginsburg ranks as "one of the greatest justices the Supreme Court has ever had. She fought to ensure that women like me could have the same rights as others."
That view has echoed across the country following Justice Ginsburg's death Friday, Sept. 18, 2020. Local, state and national tributes continue to pour in for Justice Ginsburg, a recognized champion of civil and human rights. She was 87 and succumbed to pancreatic cancer, which she bravely fought while continuing her service on the court.
Justice Ginsburg had served on the court for 27 years. She was only the second woman and first Jewish female on the nation's highest court.
"Her record on racial justice issues was second to none," wrote Kristen Clark, president and executive director of the Lawyers' Committee for Civil Rights Under Law, pointing to Justice Ginsburg's powerful dissent in the Alabama case that struck down a key portion of the 1965 federal Voting Rights Act and largely ended Justice Department oversight.
Ms. Clark stated that Justice Ginsburg fore- told that the decision "would open the door to widespread voter suppression."
Justice Ginsburg's writing, Ms. Clark stated, inspired "countless women, lawyers and advocates to resiliently fight for our country to live up to the ideals enshrined in our Constitution."
As a member of the court, Justice Ginsburg also took part in legalizing gay marriage, upholding abortion rights and overturning government rules that forced the mentally disabled to live in institutions instead of enabling hem to live in community settings.
Even as admirers mourned her loss, President Trump and the Republican-controlled Senate began pushing to name her replacement. Opponents have described the GOP move as a clear and cynical reversal from four years ago when the same senators blocked then-President Obama from replacing the late Justice Antonin Scalia on the grounds that no appointment to the U.S. Supreme Court should be made during a presidential election year.
The rush to replace Justice Ginsburg is underway as her body lays in repose under the portico at the top of the steps of the U.S. Supreme Court for members of the public to pay their respects. Preparations also were made for her body to lie in state at the U.S. Capitol later this week.
Justice Ginsburg is to be buried next to her late husband, Martin D. Ginsburg, at Arlington Cemetery on Tuesday, Sept. 29.
Hailed as a "prophet for justice" and as a cultural and legal icon, Justice Ginsburg used her time as a lawyer and judge to stem white male domination and equalize conditions for both sexes.
Having experienced gender discrimination, the Brooklyn, N.Y., daughter of a furrier and garment factory worker was determined to usher in change. Long before President Clinton appointed her to the nation's highest court in 1993, she already had become a towering figure in that area of the law.
A graduate of Cornell University and Columbia University Law School, the young married mother and then-Rutgers University law school professor won a huge U.S. Supreme Court victory in 1971. That win enabled women to use the 14th Amendment's equal protection clause to attack gender discrimination in state laws on a par with civil rights lawsuits that had used that tactic to attack racial bigotry.
The breakthrough she engineered and argued involved the 1971 case of Reed v. Reed in which the U.S. Supreme Court cited gender discrimination for the first time in striking down an Idaho law favoring men to administer wills and estates as unconstitutional.
A year later, as the first female law professor at Columbia University Law School, she co-founded the Women's Rights Project of the American Civil Liberties Union and also became its general counsel.
By 1974 under her leadership, the project and other elements of the ACLU were involved in 300 lawsuits attacking gender discrimination that affected men as well as women.
For example, Justice Ginsburg won U.S. Supreme Court decisions that deemed unconstitutional overwhelmingly male juries and struck down Social Security rules that barred men who lost their wives from receiving widower benefits on par with women who lost their husbands. Known for her hard work and her expertise on civil procedure, Justice Ginsburg first went on the bench in 1980 when President Carter appointed her, with Senate approval, to the U.S. Court of Appeals for the District of Columbia. Through the years, her dissents provided grounds for change. A prime example is the Ledbetter v. Goodyear case in which she wrote a scathing rebuke after the court threw out a lawsuit in which a woman fought to obtain the higher pay awarded to her male counterparts. Justice Ginsberg's dissent in that case led the Congress to pass a law requiring employers to provide equal pay for equal work, the Lilly LedbetterFairPayAct.It was the first legislation President Obama signed into law after taking office in 2009.
In an appreciation the Supreme Court issued, Justice Ginsberg was cited as "slow, steady and calculated" in her legal approach attacking specific areas of discrimination and violations of women's rights, but leaving room for the Congress, state legislators and local governments to usher in major social change.
Though she was notably part of the court's liberal wing, she made friends across the legal spectrum.
Archconservative Justice Clarence Thomas, who regularly opposed Justice Ginsburg's views, wrote a heartfelt condolence: "As outstanding as she was as a judge, she was an even better colleague — unfailingly gracious, thoughtful and civil."